Inlet Beach Reunion House #57
ULTIMATE House for 24. Private Pool, Gulf Views, All Suite Bedrooms plus MORE
114 S Wall Street, Inlet Beach, FL
8 Bedroom(s) | 8.5 Bathroom(s) | Sleeps 24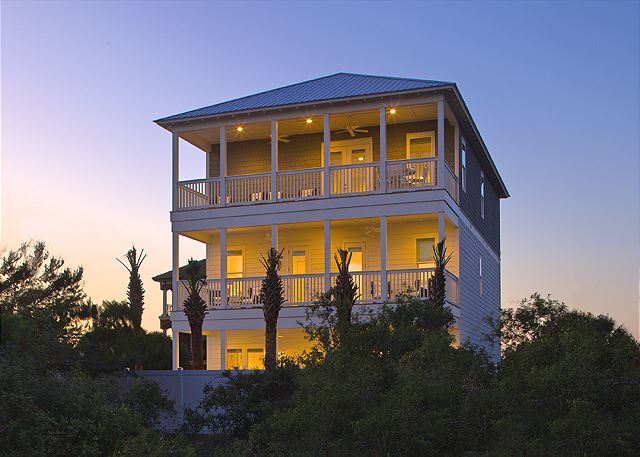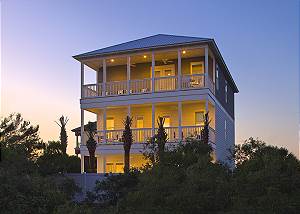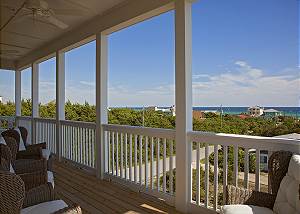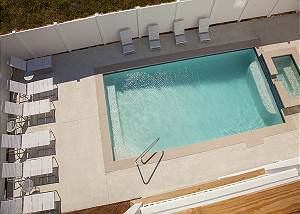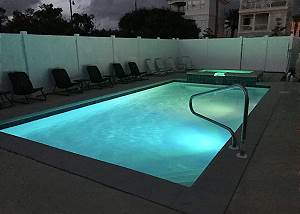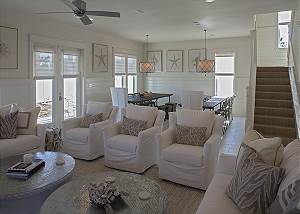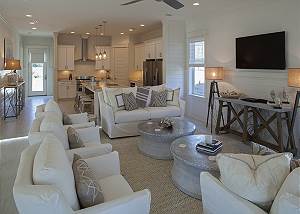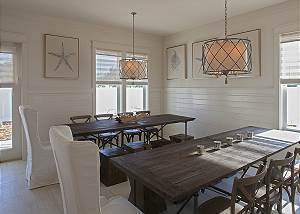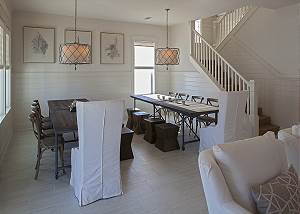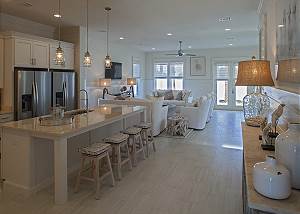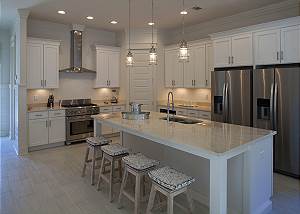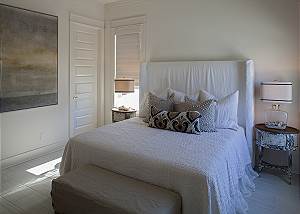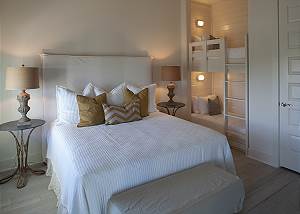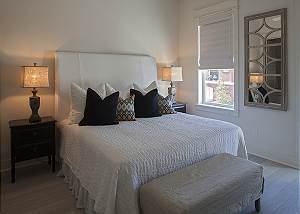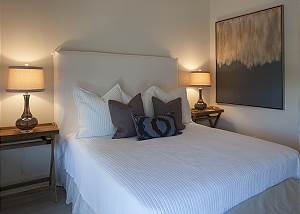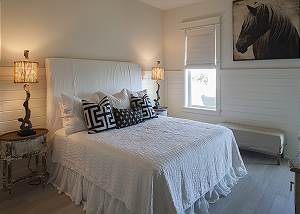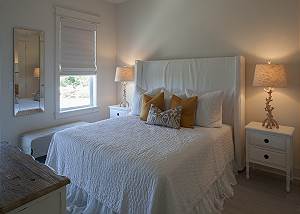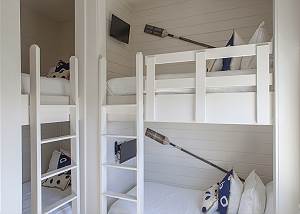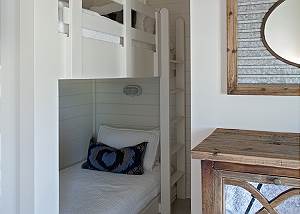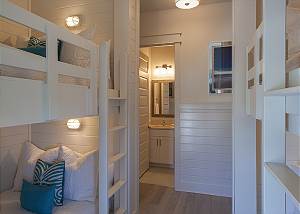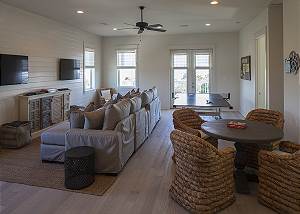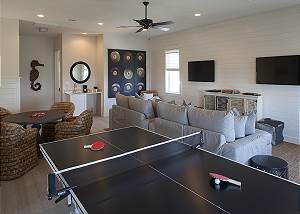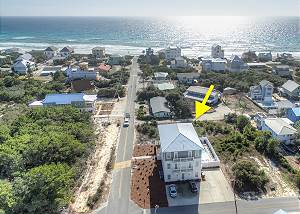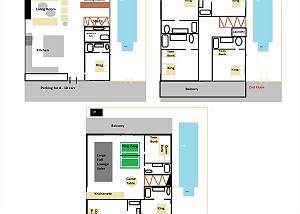 Located in beautiful Inlet Beach, this incredible home has 6 king master suites, private pool, and sleeps up to 24. Steps to Rosemary Beach, luxury decor, and comfortable bedding make this the vacation home of your dreams. Be on the Gulf or in Rosemary Beach in under 200 footsteps! **Nightly and Weekly Rates available year round with seasonal minimums. Reservation requests are subject to confirmation based on departure day. You will be called within 24 hours of booking request to confirm reservation request. ** 6 Master Suites, 2 Bunk Rooms that sleep up to 10, 8.5 Bathrooms, Private Pool, and loaded Game Room. 1 minute walk to the beach. 2 minute walk to Rosemary Beach 6 King Suites plus 2 Bunk Rooms 1st Floor King Suite: Flat Screen TV, Ceiling Fan, En Suite Bathroom, Reach in Closet 2nd Floor King Master 1: Flat Screen TV, Ceiling Fan, Walk In Closet, Private Balcony Access, En Suite Bathroom 2nd Floor King Master 2: Flat Screen TV, Ceiling Fan, Walk In Closet, Private Balcony Access, En Suite Bathroom 2nd Floor King Master 3: Built in Twin Bunk, Flat Screen TV, Ceiling Fan, Walk In Closet, Private Balcony Access, En Suite Bathroom 2nd Floor King Master 4: Built in Twin Bunk, Flat Screen TV, Ceiling Fan, Walk In Closet, Private Balcony Access, En Suite Bathroom 3rd Floor King Master 2: Flat Screen TV, Ceiling Fan, Walk In Closet, Private Balcony Access, En Suite Bathroom 3rd Floor Bunk Suite 1: 1 Double Bunk plus 1 Twin Bunk - Sleeps 4, Flat Screen TV, Storage Nooks, Private Balcony Access, En Suite Bathroom 3rd Floor Bunk Suite 2: 2 Double Bunks - Sleeps 4, Storage Units, Private Porch Access, Adjacent Full Bath Custom created for large families or groups to have the very best Emerald Coast vacation memories. With lots of outdoor living space, this home includes a sun deck by the pool, covered porches with luxury loungers, and terrific views of the Gulf. Enjoy the outdoor cooking area with grill and dine outdoors under the covered patio. When it's time to do laundry, HE washer and dryers are located on both the 2nd and 3rd floor! Professionally designed interiors, luxury bedding, and exclusive touches make this the ultimate beach house. The entire top story is a perfect kids retreat, with two bunk rooms and a huge game room with lounge. The game room comes complete with wet bar, custom couches, dual flat screen tvs, and ping pong. Linens Provided Heating Bath Towels Provided (No Beach Towels) Parking for 6-8 cars Basic Cable in all Bedrooms plus Living Rooms Wifi - speed varies based on number of connections being used in house HE Washer and Dryer available on 2nd and 3rd Floor Iron & Ironing Board Air Conditioning with controls on each floor Game Room/Lounge with Wet Bar - Ping Pong, Dual TVs, DVD Player, card table
Amenities

combination tub/shower:
double:
king:
shower:
toilet:
tub:
twin/ single:
churches:
cinemas:
coin laundry:
library:
live theater:
marina:
museums:
playground:
Dining:
DVD Player:
Game Room:
Ping Pong Table:
Satellite / Cable:
Stereo:
Television:
Air Conditioning:
Clothes Dryer:
Hair Dryer:
Heating:
Internet:
Iron & Board:
Linens Provided:
Living Room:
Parking:
Towels Provided:
Washing Machine:
Coffee Maker:
Dishes & Utensils:
Dishwasher:
Kitchen:
Microwave:
Oven:
Refrigerator:
Stove:
Toaster:
antiquing:
beachcombing:
bird watching:
eco tourism:
horseback riding:
horseshoes:
luaus:
outlet shopping:
photography:
scenic drives:
sight seeing:
walking:
ATM/bank:
Babysitter:
fitness center:
groceries:
hospital:
laundromat:
massage therapist:
medical services:
Beach View:
Near The Ocean:
Ocean View:
Water View:
Balcony:
Deck / Patio:
Lawn / Garden:
Outdoor Grill:
Private Pool:
deepsea fishing:
fishing:
golf privileges optional:
jet skiing:
roller blading:
sailing:
scuba diving or snorkeling:
snorkeling:
surf fishing:
surfing:
swimming:
tennis:
children welcome:
non smoking only:
pets not allowed:
Minimum Age Limit for Renters:
Full Kitchen:
Refrigerator:
Coffee Maker:
Ice Maker:
Microwave:
Toaster:
Cookware:
Blender:
Dishwasher:
Blender:
Mixer:
Electric Can Opener:
Air Conditioning:
Ceiling Fans:
Linens:
Washer & Dryer:
Ironing Board:
Nearby ATM:
Nearby Post Office:
Nearby Internet Cafe:
Nearby FedEx:
Nearby Bank:
WiFi Internet:
Nearby Medical Services:
Nearby Grocery:
Outlet Shopping:
Movie Theatres:
Golf Course:
Nearby Art Galleries:
Nearby Boutique Shopping:
Nearby Concert Venue (Seaside):
Deck:
Patio:
Balcony:
BBQ Grill:
Gas Grill:
Private Pool:
Tennis:
Beach:
Outdoor Dining:
Courtyard:
Near Beach:
Close to Town:
Cable TV:
DVD Player:
Stereo System:
WiFi Internet:
Guest Reviews of
ultimate house for 24. private pool, gulf views, all suite bedrooms plus more
Inlet Beach , FL
Amazing home and location!
Review by
Joseph A.
The home was the perfect space for our Thanksgiving reunion. All of the kids had their own space on the top level and the adults had plenty of room on the lower two levels. The pool was the perfect size to entertain the kids. It was a short walk up the street to the beach (1 block) and a 5 minute walk to town (shops and restaurants). Overall I would highly recommend this rental!
5 out of 5 stars
Fantastic
Review by
Dustin H.
We had 19 adults in our party and the house was plenty big. We never felt crowded, there was tons of indoor space for all of us to relax on a rainy day. Having the pool was great, because the ocean had a red tide for a few days. We absolutely will look this house up if we come back to PCB. Jacque was also amazing and quick to respond to any questions or calls!
5 out of 5 stars
Reunion house stay
We rented Reunion House for the week in Inlet Beach. We arrived to the nicest cleaning crew finishing up our vacation home. It was a beautiful home . Unfortunately , after arriving there were many maintenance issues which we called three times about and these were not fixed and nthe rental company did not communicate with us at any point about them. We had a hot tub that never worked, a tv that didn't change channels, a broken dishwasher, and multiple light bulbs out including both above the cooktop. In addition when we rented this home no one even mentioned that there was construction directly in front of this home, obstructing the gulf view that it was advertised as having. Overall the response of the team at Exclusive 30A was frustrating and disappointing.
3 out of 5 stars
Great except for Construction next door
Review by
Amy D.
The house was nice and fit our family perfectly. EXTREMELY disappointed as pile drilling went on MON-THURS when my kids and grandchildren were there. It was so loud the babies had a hard time napping. The pool experience was drowned out by the constant pounding.
3 out of 5 stars
Inlet beach
We enjoyed our stay. The House was perfect for our group. Everything was clean and there was plenty of everything we needed. It was very easy to check in and I appreciated the app that gave me all the info I needed. We definitely would rent the property again.
5 out of 5 stars
Successful Family Beach Trip
Review by
Judy S.
We had a great time staying in the Reunion house. It was perfect. Plenty of space to sleep everyone and it was spacious enough that we were never on top of each other.
5 out of 5 stars
Perfect Wedding Weekend
Review by
Candace B.
It was FANTASTIC!!! We loved the house!! It was exactly what we needed for our wedding week!!! Addie was wonderful to work with!! The house was fully equipped with everything we needed!! Each room was a master bedroom- which is perfect for a large group!! No one was crowded or on top of each other!!! I hope to return for future vacations!!
5 out of 5 stars
Large Group Luxury
Review by
Matt E.
This was the perfect rental for our group. We had six families made up 11 adults and 13 kids. The house had plenty of room for all. The two sets of washers/dryers was awesome for a large group. The two large dining tables allowed the entire group to eat at once. Overall a great place to stay!
5 out of 5 stars
Reunion House Vacation
We absolutely loved the location, the layout, the decor etc. Working with the reservation staff was a breeze and they were so helpful with any questions we had. Our only complaint was that the house was full of TVs, but had zero DVD players. However, they did provide them after 4 days into our stay. Lastly, the home did not appear to have been cleaned very well. There was hair in the bathrooms/showers and even on some of the pillow cases. We moved some furniture to search for kids dropped toys and underneath the chairs/sofas was absolutely filthy. We would hope that the cleaning service would improve, and we would definitely stay at this location again.
4 out of 5 stars
Dream House
Review by
Connie T.
Couldn't find one thing I would change in this house.....every inch is used to maximize all spaces.....perfect for large families like mine....all get to sleep in a real bed and no parent has to share a bathroom with their children....
5 out of 5 stars
Great location and tons of room
Review by
Jason W.
Well decorated, great location and perfect set up with pool and hot tub.
5 out of 5 stars
nye
Review by
Robert L. K.
Great house and great trip!
5 out of 5 stars
Fall break vacation
Review by
Robert H.
Loved the size and location of the home. It worked great for access to the beaches and Rosemary. The main problem we had was the home was very dirty. I almost felt that the cleaning crew only changed the sheets and wiped down the bathrooms. There was to much evidence that they had done nothing more.
4 out of 5 stars
Absolute Lifesaver
Review by
Lauren M.
This house was everything we expected and more. We booked last minute and had high hopes from the pictures and the agent that helped us, but it could not have been more perfect. It is only a short walk to the beach. Even though it rained most of the time we were there, we made the best of it and cooked some delicious meals in the spacious kitchen. The private pool and hot tub were absolutely perfect for our group. The house is also located only a couple miles from restaurants, gas station and a grocery store. If you have a large group, this is the place for you! Thank you 30A Exclusive and Addie, you guys were a lifesaver.
5 out of 5 stars
Fabulous Family Gathering Venue
Review by
Susie R.
We had a marvelous experience in this beautifully appointed home. Awesome layout with wonderful walk-in closets in most king suites to tuck away pack n plays for infants and super fun bunk beds for the kids and even us adults who are kids at heart. I actually slept with my 4 year old grandson in one of the bunk bed suites (even though I was on the bottom) !! HA Wonderful place to reconnect, bond and enrich family relationships!
5 out of 5 stars
The Best spot on 30a!!!!!
Review by
Wilson D.
WONDERFUL!!! Great spot, perfect location and the Pool and Spa made it!!!!
5 out of 5 stars
Annual Family Vacation in the Destin Area.
Review by
Richard S.
This was our fourth annual vacation in Destin but our first in Inlet Beach. The house layout was perfectly suited for our group of 9 adults and 6 children ranging in age from 15 to 2. The third floor is totally kid friendly, especially nice on those occasional rainy afternoons. With 6 king bedrooms and ensuite bathrooms, everyone had their own private area. The pool and outdoor dining area was a big hit with the entire group.We had a couple of issues with some outdoor equipment but after talking with the manager, those issues are being addressed. After getting some input from the clan, we have decided to book this house again for 2017.
5 out of 5 stars
End of Year Trip
great time. will come again.
5 out of 5 stars
Crawford Family Vacation
Review by
Meredith Y.
Overall loved the home! A couple of issues/suggestions:- We never had working wifi- We reported a drip in a shower on the 2nd floor that was very loud. Maintenance explained that it was a bigger fix then what could be done while we were in the house - perhaps next time just leave a note & how to dull the drip noise rather than not having us be concerned with it.- The kitchen (stove top & fan top in particular) were not cleaned well so we did that prior to moving our stuff in- The 3rd floor space is incredible but we found it underutilized because of it's distance from the kitchen. Perhaps a refrigerator/beverage fridge would be a good addition for snacks & drinks.
4 out of 5 stars
Room for All
Review by
Vicki G.
We really enjoyed our stay in the reunion house. The 'bunk rooms' were great for the kids. We'd stay here again for sure!
5 out of 5 stars
Business Retreat
Review by
Steven S.
Great house. Perfect for eight people on a business retreat.
5 out of 5 stars
Great for Multiple Families
Review by
Chris P.
I had some initial concerns with this house being newly built and no chance to see real photos of it until putting our deposit down, but it turned out to be a fantastic vacation home for our four families with 11 children. We even had an entire bedroom left empty - and I can honestly say that I was NOT expecting that.The pool at the house was a perfect size for the kids to play. I was told of a community pool that we could use, too, but was never able to find it.The beach was as beautiful as I remember, but even better because it wasn't as crowded as Rosemary Beach when we came last year. I highly recommend the chair service - they were awesome!The walk to the beach was just a few blocks, and not a problem for any adults or children. It was a great location - close to the highway and the beach, and not too far to Rosemary Beach, but in the heat it was better to drive there.Looking forward to coming again, and hopefully to even stay in the Reunion House. Thanks so much to the Exclusive 30A Rentals team!
5 out of 5 stars
Inlet Beach reunion House
Review by
Chris H.
Very nice home. Wasn't totally equipped as advertised. Didn't have x-box or play station, no refrigerator/ice maker with bar. Kitchen very well equipped but no pitchers. Had issues with the pool but no prompt response. Requested propane tank for gas grill and was told one would be delivered but it was not. Nothing major but I would expect a little more for a premium price. Overall, the home is very nice and the location is good. The beach is great and not in an overly crowded area.
4 out of 5 stars
Book Your Stay!
Select your arrival and departure dates below to reserve this unit.
Availability
Available
Unavailable
Check-In Only
Check-Out Only
Seasonal Rates
| Date Range | Daily | Weekly | Monthly |
| --- | --- | --- | --- |
| 04/05/2019 - 04/14/2019 | $1,631.97 | $10,568.07 | N/A |
| 04/15/2019 - 04/22/2019 | $1,349.34 | $8,719.15 | N/A |
| 04/23/2019 - 05/09/2019 | $972.16 | $6,253.58 | N/A |
| 05/10/2019 - 05/24/2019 | $1,443.89 | $9,335.80 | N/A |
| 05/25/2019 - 05/31/2019 | N/A | $12,416.99 | N/A |
| 06/01/2019 - 06/07/2019 | N/A | $9,951.42 | N/A |
| 06/08/2019 - 06/14/2019 | $2,052.77 | $11,389.24 | N/A |
| 06/15/2019 - 06/21/2019 | N/A | $12,416.99 | N/A |
| 06/22/2019 - 06/28/2019 | N/A | $12,416.99 | N/A |
| 06/29/2019 - 07/05/2019 | N/A | $13,650.29 | N/A |
| 07/06/2019 - 07/26/2019 | $2,052.77 | $11,389.24 | N/A |
| 07/27/2019 - 08/09/2019 | $1,792.75 | $9,951.42 | N/A |
| 08/10/2019 - 10/27/2019 | $1,254.79 | $8,102.50 | $34,592.75 |
| 10/28/2019 - 11/22/2019 | $784.08 | $5,020.28 | N/A |
| 11/23/2019 - 12/01/2019 | $1,242.90 | $8,102.50 | N/A |
| 12/02/2019 - 12/20/2019 | $784.08 | $5,020.28 | N/A |
| 12/21/2019 - 01/01/2020 | $1,242.90 | $8,102.50 | N/A |
| 01/02/2020 - 02/21/2020 | $784.08 | $5,020.28 | N/A |
* Seasonal rates are only estimates and do not reflect taxes or additional fees.