Beside Seaside 8 Bedroom #83
Private Pool, Next to Seaside, 0.5 Miles to Gulf, Bikes, Designer Interiors!
357 Canal Street, Santa Rosa Beach, FL
8 Bedroom(s) | 5 Bathroom(s) | Sleeps 16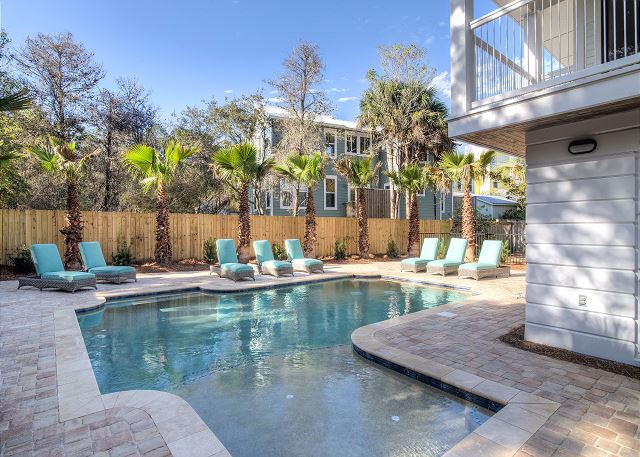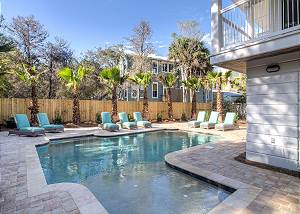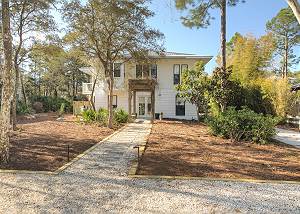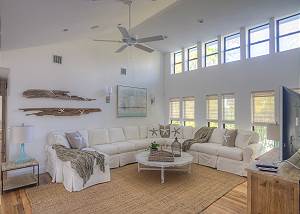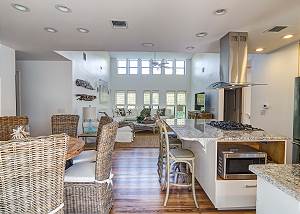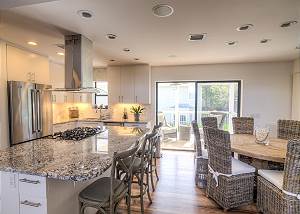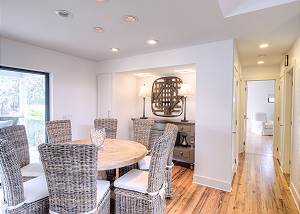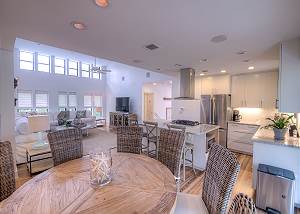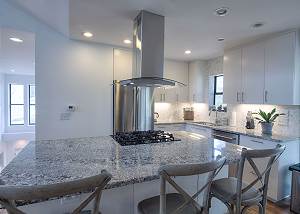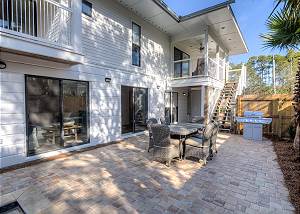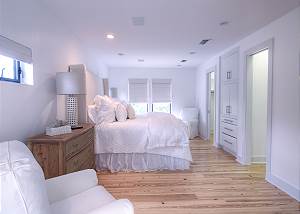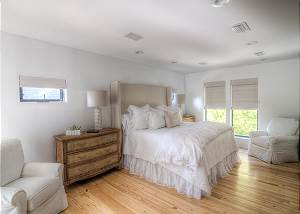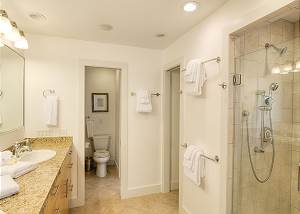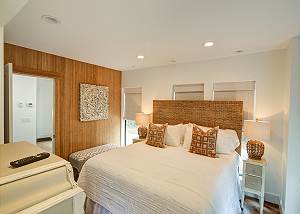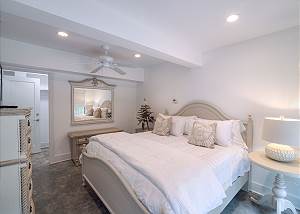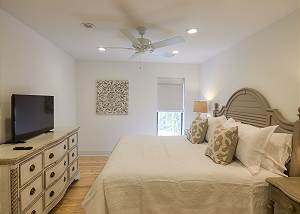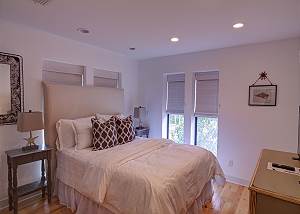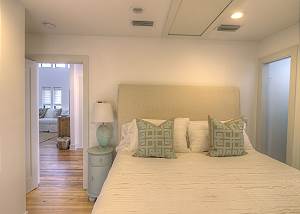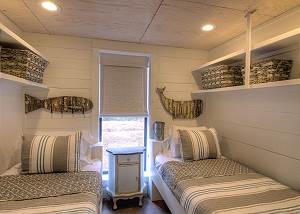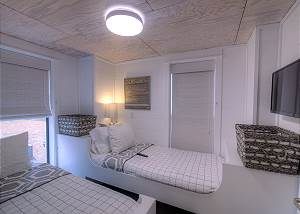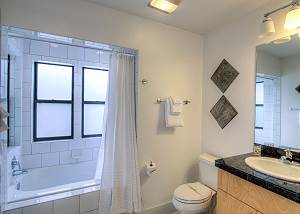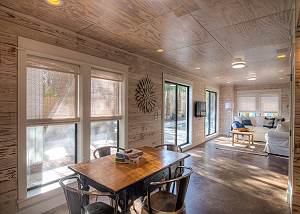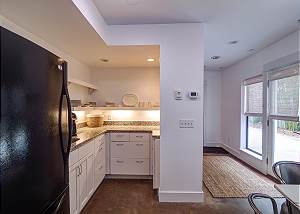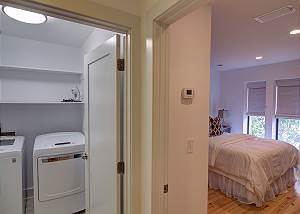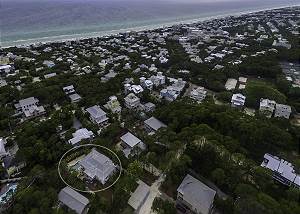 **Nightly and Weekly Rates available year round with seasonal minimums. Reservation requests are subject to confirmation based on departure day. You will be called within 24 hours of booking request to confirm reservation request. ** Look no further for your ultimate vacation dream home! This stunning 8 bedroom home has been fully renovated to include a private pool and sundeck, all new professionally designed interiors, and lots of living spaces both inside and out. Combining the ultimate in luxury and vacation amenities, this home is perfect for your entire family! From the moment you pull up, you will be welcomed by the landscaped front yard which includes plenty of parking for your entire party. Once you enter the home, you are greeted by the expansive main staircase leading up to the main living area. This main living area opens up to the large kitchen, fully stocked for entertaining. The living room opens up to the second floor wrap around balcony, with beautiful views of the pool area as well as comfortable seating areas. The second floor features 4 bedrooms and 3 baths, including the Master King Suite. This stately bedroom overlooks the private pool and features a private balcony. The first floor of the home includes 4 additional bedrooms with 2 bathrooms, a kids living room complete with game table and kitchenette as well as direct access to the large back deck and private pool. Featuring signature bedding, all of the bedrooms are the ultimate in luxury and comfort. If the gorgeous interiors are not impressive enough, the private pool and sundeck will certainly elicit excitement. The sizable private pool includes a pool tanning ledge for both young and old to enjoy. The surrounding sundeck includes plush seating and lounge chairs, landscaped yard, privacy fence, and outdoor grill. Enjoy the famous 30A weather all year round! Complimentary use of 6 bikes is available for your stay (some restrictions apply). Located in historic Old Seagrove, this home is a 5 minute walk to the beach and 30A. The rooftops of Seaside are visible from the backyard! Concierge services are available including beach chair set up, grocery delivery, bike rentals, golf cart rentals, and game rentals. Everything can be arranged prior to your arrival so all you need to do is show up and start having fun!
Amenities

combination tub/shower:
king:
outdoor shower:
queen:
shower:
toilet:
tub:
twin/ single:
Dining:
Game Room:
Satellite / Cable:
Television:
Air Conditioning:
Clothes Dryer:
Hair Dryer:
Heating:
Internet:
Iron & Board:
Linens Provided:
Living Room:
Parking:
Towels Provided:
Washing Machine:
Coffee Maker:
Dishes & Utensils:
Dishwasher:
Kitchen:
Microwave:
Oven:
Refrigerator:
Stove:
Balcony:
Deck / Patio:
Lawn / Garden:
Outdoor Grill:
Heated Pool:
Private Pool:
children welcome:
non smoking only:
pets not allowed:
Full Kitchen:
Kitchenette:
Refrigerator:
Coffee Maker:
Ice Maker:
Microwave:
Cookware:
Blender:
Air Conditioning:
Linens:
Washer & Dryer:
Ironing Board:
High Speed Internet:
No Phone:
Nearby ATM:
Nearby Post Office:
Nearby Internet Cafe:
Nearby FedEx:
Nearby Bank:
WiFi Internet:
Area FitnessCenter:
Nearby Medical Services:
Nearby Grocery:
Outlet Shopping:
Movie Theatres:
Golf Course:
Nearby Art Galleries:
Nearby Boutique Shopping:
Nearby Concert Venue (Seaside):
Patio:
Balcony:
BBQ Grill:
Outdoor Shower:
Private Pool:
Outdoor Dining:
Bikes Available:
Near Beach:
Close to Town:
Cable TV:
WiFi Internet:
Guest Reviews of
private pool, next to seaside, 0.5 miles to gulf, bikes, designer interiors!
Santa Rosa Beach , FL
Seaside - 357 Canal
Review by
Bryan D.
House was in a good location and had plenty of room and was good for entertaining..... however, the linens were old and needed to be replaced, house was not that clean, Bike's had flat tires and were inoperable .......kitchen not well equipped.... one trash bag (?) one dishwasher tablet (?) no coffee filters ....
3 out of 5 stars
Beautiful House under Poor Management
The house was beautiful and perfect for a large group. We spent most of our time at the pool, as we were not able to go to the beach due to red tide. It is walking distance to town. Arriving at the house was easy, the communication initially was good. When we arrived the hosue was completely dirty. It was not cleaned properly and we sited many many issues with housekeeping, to the point where the house keeping manager agreed. The house, after many attemps, was still never cleaned properly. I would not be staying in a house managed by this property until they fix the many, many house keeping and communication issues that they have. I spent too much of my vacation cleaning, and trying to track down housekeeping. While we had a nice time and the house was what we needed, it needs to be properly maintained.
3 out of 5 stars
Family Vacation
Review by
Pam N.
The house was beautiful but, it was not very clean. We were very disappointed in the way it was cleaned (felt like they did a rushed job). The floors were very dirt, tables had not even been wiped off, the stove had grease smeared all over it like it had not been cleaned in a while. The bedroom however where cleaned and the floors were a little better in there. It was a little longer walk to the beach then we thought it would be (glad we had brought wagons to pull the kids and beach stuff in).
3 out of 5 stars
Family vacation 2018
Review by
Shenley I.
Our family vacations each summer together and we try to chose a different location each year. We had never been to this particular area and were very excited. There are 15 of us so it's a challenge to find a house that fits our needs. Beside Seaside definitely fit the criteria. When we arrived we found our house wasn't ready due to cleaning staff problems. After the 3rd cleaning group had been sent, we decided we needed to get in and unpack. Supposedly 1 bed needed to be done and we washed and made bed ourselves. Upon further inspection, the house had only been partially cleaned. Yes, it's a big house but we paid a hefty cleaning fee and for the price we expected a clean house. Not too much to ask for. The property mgr, Dillon, gave us the run around all week. Never came out to inspect or even offer up an apology. We had problems with the pool and were assured he had taken care of it. On Friday the pool company came for regular maintenance and we found out they'd never been called. This is a really lovely house but has not been properly maintained. For the price we paid to stay for a week it definitely is overpriced. Despite the problems we managed to make the best of our week. We feel like the area is overdeveloped and terribly crowded. We won't be back! We'll find a new location and hopefully better management.
2 out of 5 stars
Great wedding weekend
Rented this for my bridal party for the weekend of my wedding. House is set up to hold a max amount of people but it was great. I got some beautiful photos inside and outside the house with the photographer. I highly recommend this house for a vacation rental with a big family or friends. Bring your own toilet paper and paper towels though. They do not supply more than one roll!
5 out of 5 stars
Community Volunteer
Review by
andi o.
Great house. Bathrooms could be better located for 8 bedrooms but overall a good place to stay.
5 out of 5 stars
Nice location but not what we thought we were renting.
Location was great, pool and decor was nice and clean. We rented this house for the 8 bedrooms it advertised however one of the twin bedrooms does not have a door, so truly this was a 7 bedroom home when we rented it. The lady who had that room, was disappointed and had no privacy. I have contacted the people we rented from exclusive30A and they never got back to me about not having 8 bedrooms.
3 out of 5 stars
Beautiful Home
Review by
Caroline B.
The home was beautiful and the perfect size for our group. The pool was amazing. There was some confusion with check-in which was inconvenient but they made up for it with a late check-out.
4 out of 5 stars
Lot #83
Review by
Michele M.
We had a wonderful time... our rental to have used a bit more cooking pot and pans. However we soon learned on the first day that he vent over stove had a terrible leak. I call Maintenance and he said "yea that happens just turn the vent on" which we did with correction. Needless to say we did not cook. A maintenance guy stopped by on Friday afternoon and was annoyed at the comment I got when I made the call early in the week and apologized. Also one of the bikes was broke I called Maintenance for that and they came and fixed however it broke again!! beyond that it was fine, weather was great we did have a good time.
3 out of 5 stars
Unable to use the swimming pool for three days due to algae
Review by
Frank C.
Had problems with correcting the swimming pool for our ability to use the pool. Poor communication between pool company and owners representatives. Beautiful condo and interior of condo was very accommodating.
3 out of 5 stars
Best rental on 30A
Review by
Christine C.
This was by far our best vacation rental experience yet. We have been renting on 30A for over 20 years and this home is the best we have ever stayed in. There are too many wonderful things to list but I will assure you that if you have the opportunity to stay here that you should go for it! The layout is perfect with 4 bedrooms upstairs and 4 in the basement. The home is open and airy and beautiful. There is a small kitchen in the basement that makes having two groups or in laws or young adults very easy. The ride to the beach on bikes is easy and pretty. Love the location! The best part is the beautiful pool! Huge deck and comfortable lounge chairs. A grill to cookout and palm trees! We wish we could have stayed forever. Rental process easy as always with Exclusive 30A. They are available pretty much around the clock to answer calls and address needs. If you find you need something (like a toaster or blender or iron...). They bring it right over ?? If something is missed ( which rarely ever happens) with housekeeping... They have had their housekeeping service drive after hours to address immediately. They are so great! We have always looked to stay within 50 yards of beach access in the past. Having stayed here, made us really appreciate how nice it was to have great it could be to stay further away in a nice quiet and private area. The ride to the beach was relaxing and fun and the to come back to the pool when we were done at the beach for the day was amazing. Also, it is a very quick bike ride to Publix or into seaside for shopping.
5 out of 5 stars
Book Your Stay!
Select your arrival and departure dates below to reserve this unit.
Availability
Available
Unavailable
Check-In Only
Check-Out Only
Seasonal Rates
| Date Range | Daily | Weekly | Monthly |
| --- | --- | --- | --- |
| 04/05/2019 - 04/14/2019 | $1,229.53 | $7,942.45 | N/A |
| 04/15/2019 - 04/22/2019 | $381.64 | $2,395.68 | N/A |
| 04/23/2019 - 05/09/2019 | $381.64 | $2,395.68 | N/A |
| 05/10/2019 - 05/24/2019 | $664.27 | $4,244.61 | N/A |
| 05/25/2019 - 05/31/2019 | N/A | $7,273.53 | N/A |
| 06/01/2019 - 06/07/2019 | N/A | $7,479.96 | N/A |
| 06/08/2019 - 06/14/2019 | N/A | $7,018.50 | N/A |
| 06/15/2019 - 06/21/2019 | $1,514.29 | $8,404.94 | N/A |
| 06/22/2019 - 06/28/2019 | N/A | $8,404.94 | N/A |
| 06/29/2019 - 07/05/2019 | N/A | $10,253.86 | N/A |
| 07/06/2019 - 07/26/2019 | $1,680.78 | $9,328.89 | N/A |
| 07/27/2019 - 08/09/2019 | $1,347.79 | $7,479.96 | N/A |
| 08/10/2019 - 10/27/2019 | $946.90 | $6,093.53 | $25,958.91 |
| 10/28/2019 - 11/22/2019 | $593.35 | $3,782.12 | N/A |
| 11/23/2019 - 12/01/2019 | $935.66 | $6,093.53 | N/A |
| 12/02/2019 - 12/20/2019 | $593.35 | $3,782.12 | N/A |
| 12/21/2019 - 01/01/2020 | $935.66 | $6,093.53 | N/A |
| 01/02/2020 - 02/21/2020 | $593.35 | $3,782.12 | N/A |
* Seasonal rates are only estimates and do not reflect taxes or additional fees.