Lake-Front Serenity, Watercolor #27
Near Camp Watercolor - Golf Cart - Lots of Private Outdoor Spaces - Designer
25 Pond Cypress Way, Santa Rosa Beach, FL
5 Bedroom(s) | 4.5 Bathroom(s) | Sleeps 12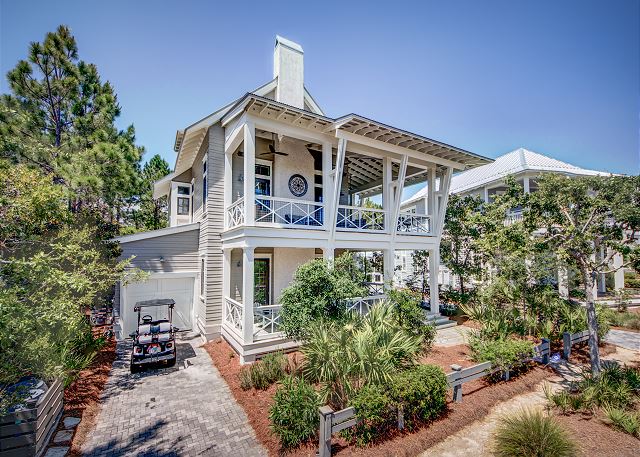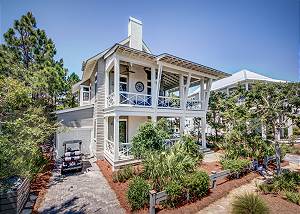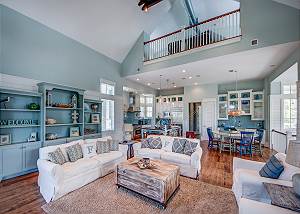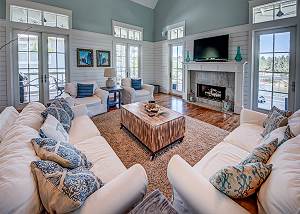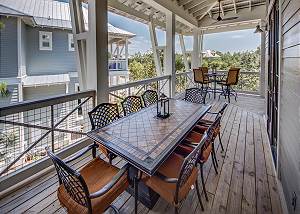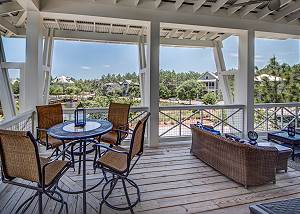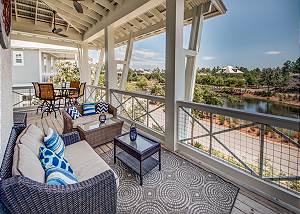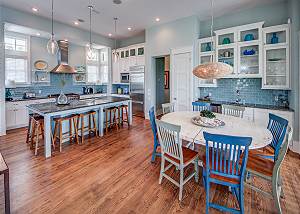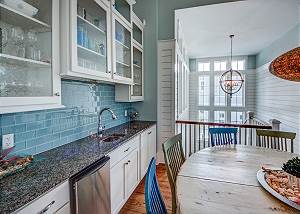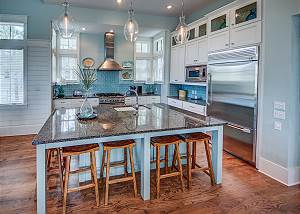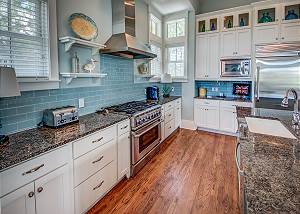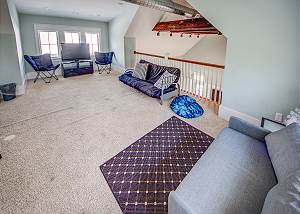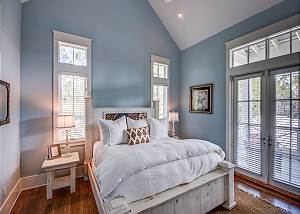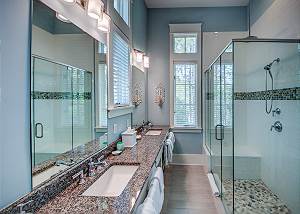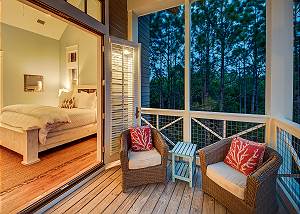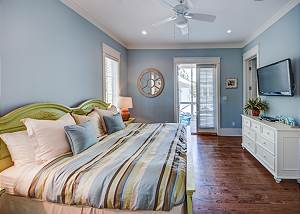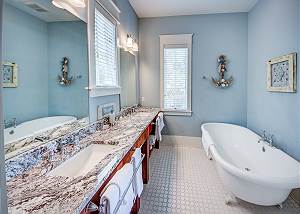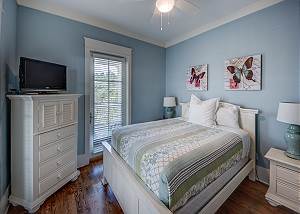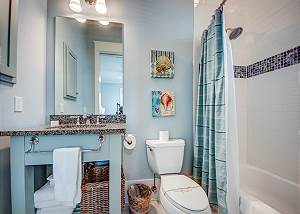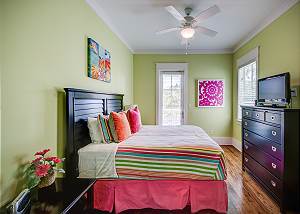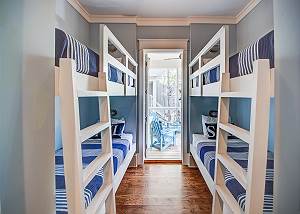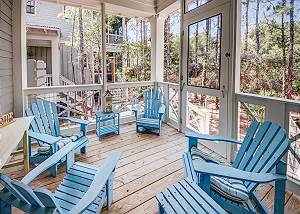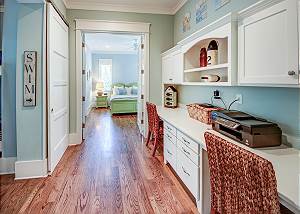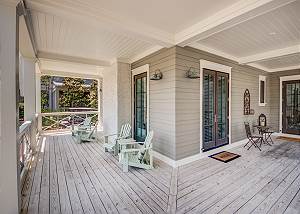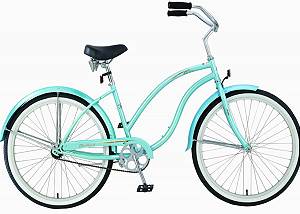 Our spacious, luxury home is in the heart of the ever-buzzing Watercolor community. Perched in a rare, pond front location, the bright and beautiful home allows guests to truly escape and experience the beauty of the neighborhood's natural vegetation and landscape. **Available for Saturday to Saturday rentals only during summer season. Nightly (with seasonal nightly minimums) and Weekly rates available all other times. Reservation requests are subject to confirmation. ** Our spacious getaway features an awe-inducing, cathedral ceiling atop the 2nd level family room. This sky-high ceiling makes for a truly open, appealing and airy setting. In the grand room, plenty of plush and inviting seating faces a flat-screen, High Definition TV and a beautiful, gas fireplace. The dining area features a custom made beach inspired table for 8 along with a wet bar with built in ice maker. Multiple doors lead directly onto the wrap around upper level balcony that affords our guests wonderful outside seating, a natural gas Grill and panoramic views over the pond in front. Three distinct seating options await including a dining table for eight, a set of low relaxing deep seating for pre-dinner cocktails and a cozy, high breakfast table that makes the most of the pond views. The bright and modern kitchen features custom. white cabinetry, custom tiling, and granite counter-tops steely tones to match that of the top-of-the-line stainless steel appliances. Island seating for 6 allows for optimal gathering in the kitchen/dining area. A custom built spiral staircase winds its way up to an open deck area complete with flat screen TV, futon and chairs. The perfect teenager retreat. New hot water outdoor shower! The cathedral ceiling accentuates the inviting Master bedroom on this level. This upper Master features a king bed with our signature, 5 Star, Westin Heavenly Bedding, flat screen TV, a spacious, private bath with a walk-in shower and his/hers vanity. Gorgeous, spa-like feel. Downstairs is the 2nd Master Bedroom, as well as 2 Queen Guest Suites. You will also find a small office 'nook' with an ample desk for any work that needs to be taken care of during your stay. Step into another highlight of the home: a serene and luxurious 2nd Master suite featuring our 5 Star, Westin Heavenly Bedding. Sink into a plush and airy haven featuring fine, Italian linen after a day at the Watercolor Beach Club. Escape with your own flat screen TV, and a spa-like bath complete with claw-foot tub, separate shower and double vanity. Each of the two queen bedrooms also have flat screen TV's, private bath for 1 and the other shares with the bunk room; both with a bathtub and shower, as well as single vanities. A separate bunk cove also has two sets of built-in twin bunks to sleep 4 and its own, private screened deck. All bedrooms enjoy the luxury of a TV, walk-in closet and access to their own private deck or downstairs porch. True serenity! Our home which also provides wifi and built in surround sound speakers throughout, will be selectively rented to vacationers of discriminating taste. Act quickly to reserve your slice of time in paradise! 4 BRs: 2 King Suites (both with flat screens) 2 Queens (with flatscreens) Bunk Area sleeps 4 Loft Retreat with futon and flat screen Access to all Watercolor pools, Beach Club, and beach access is included with your reservation. **All bedrooms on 1st floor except one of the masters is on the 2nd floor with all main areas. Access to garage not available for guests.
Amenities

combination tub/shower:
king:
outdoor shower:
queen:
shower:
toilet:
tub:
twin/ single:
Dining:
Game Room:
Satellite / Cable:
Stereo:
Television:
Air Conditioning:
Clothes Dryer:
Hair Dryer:
Heating:
Internet:
Iron & Board:
Linens Provided:
Living Room:
Parking:
Towels Provided:
Washing Machine:
Coffee Maker:
Dishes & Utensils:
Dishwasher:
Kitchen:
Microwave:
Oven:
Refrigerator:
Stove:
Toaster:
Resort:
Water View:
Waterfront:
Balcony:
Bicycles:
Lawn / Garden:
Outdoor Grill:
Communal Pool:
children welcome:
non smoking only:
pets not allowed:
wheelchair inaccessible:
Full Kitchen:
Refrigerator:
Coffee Maker:
Ice Maker:
Microwave:
Toaster:
Cookware:
Blender:
Air Conditioning:
Ceiling Fans:
Linens:
Washer & Dryer:
Ironing Board:
High Speed Internet:
No Phone:
Fireplace:
Bicycles Available:
Nearby ATM:
Nearby Post Office:
Nearby Internet Cafe:
Nearby FedEx:
Nearby Bank:
WiFi Internet:
Area FitnessCenter:
Nearby Medical Services:
Nearby Grocery:
Outlet Shopping:
Movie Theatres:
Golf Course:
Nearby Art Galleries:
Nearby Boutique Shopping:
Nearby Concert Venue (Seaside):
Deck:
Patio:
Balcony:
Gas Grill:
Outdoor Shower:
Shared Pool:
Tennis:
Beach:
Outdoor Dining:
Golf Cart Available:
Bikes Available:
Near Beach:
Close to Town:
On Lake:
Cable TV:
CD Player:
DVD Player:
WiFi Internet:
Netflix Streaming:
Guest Reviews of
near camp watercolor - golf cart - lots of private outdoor spaces - designer
Santa Rosa Beach , FL
Perfection
Review by
Kate M.
I know - "perfection" sounds dramatic - but it is the truth. In my opinion the pictures don't do it justice - and the pictures are what sold me on this property!I was vacationing w my 4 adults kids and their spouse/sig others, and 4 grandkids. The house provided the PERFECT set up. Plenty of room for all of us to be together and hangout/playgames/relax/eat. We plan to return next summer and this house will be our go-to. This house made everything easy. THANK YOU!
5 out of 5 stars
Great Watercolor Home
We love staying in Watercolor with the beautiful homes, access to the beach, and all of the amenities that it offers. Lake-Front Serenity is a great home and perfect for our family of 12!
5 out of 5 stars
Winter Break in Watercolor
Review by
Janet P.
We rented this house for a week over winter break with another family. We have 20-something children with significant others, so this house was a great fit bedroom-wise. It also has a big dining table for group meals and ample seating in the living area. This house has really nice porches which we used on warm days and would be wonderful in warmer weather. We've stayed in Watercolor before and enjoy biking and walking. Also, the New Years fireworks in Seaside are great. The only misleading information about this rental is that there's not enough room in the driveway for 2 cars plus the golf cart. We ended up having the golf cart put in the locked garage and not using it, but that wouldn't be so appealing in the summer. I would definitely recommend this house to others and we'll consider renting it again.
5 out of 5 stars
Watercolor Vacation
We had a great time in Santa Rosa Beach & loved every minute of our stay. Watercolor has so many great amenities. We enjoyed using the golf cart to get around.
5 out of 5 stars
Exceeding our expectations-beautiful and spacious home
Review by
Tammy H.
The pictures do not do justice of this beautiful home. It is very spacious and gives room for every one to have their own space. The master bedroom has bedding that is so comfortable I am looking to buy a mattress and comforter just like it. The porches are magnificent and have beautiful views. The pond it overlooks has fish and turtles that we fed each day. The quiet street allows for peace and tranquility. Very close to camp pool. Excellent location Best home I have stayed at in Watercolor.
5 out of 5 stars
Perfect Spring Break House
With two masters, this beautiful home was perfect for two families. The house was very spacious and comfortable. We really enjoyed the nice breezes while sitting on the porches too. It was also very nice to have the use of the golf cart to get around. Because the cute bunk room was pretty small and didn't have its own bathroom, it worked much better for our younger children. Our four teenage girls enjoyed the two side by side queen bedrooms with attached baths and great closet space. They also loved that their rooms opened onto the lower front porch.
5 out of 5 stars
25 pond cypress way
Review by
Stacie P.
Please let Exclusive 30A know and please respond back
Review by
Carla N.
Many things broken or in need of repair. Washer filthy, dishwasher worked intermittently, sinks clogged throughout house, grill had trouble lighting, several kitchen appliances dirty, oven broke during stay and they tried to repair and were very nice replaced with an Oster turkey roaster (they said $400 so we could t get a refund) actual roaster was $40 from target or Walmart - our turkey was awful
1 out of 5 stars
Summer 2016
Review by
Todd V.
1. Upon arrival, the AC on the main floor was not working. I called all the numbers provided to me for emergency service along with the provided app and texts and did not receive a call back for almost 20 hours. By this point, I was able to fix it on my own since I build houses for a living.2. House was very dirty. All of our feet had 'walmart' feet so we had to spend some time cleaning the hardwoods in the house. All bathrooms had mold in showers on tile, which my wife cleaned.3. Multiple Toilet paper holders and Towel Holders were of cheap quality and kept falling of the walls/cabinets.4. Provided Golf Cart was great except you only have room for one car and the golf cart since the garage is locked on the house. We had two cars and resulted in a ticket from the friendly security.Overall a very nice house just needs some TLC and better response to issues.
3 out of 5 stars
Watercolor Perfection
Review by
Pam L.
My husband fell in love with the photos of this house and we both hoped the home would be as lovely as it appeared online. I'm happy to say it was spectacular! Waking up in this house each morning was truly joyful. I accommodated our two families with so many sleeping arrangements for little kids and the older ones. The location was perfect for the little ones to bike in front of the lake without having to deal with any traffic. Plus, with the location being further from the beach and restaurants it gave us something to bike"to" each day which was our favorite activity. I cannot say enough great things about this house. I would happily stay in it on our next watercolor visit!
5 out of 5 stars
Fantastic beach house!
This home is gorgeous and was immaculately clean. Easy, professional interactions with the rental company and the handyman who came out once. Great experience. You'll love it!
5 out of 5 stars
Family Vacation in Watercolor
Review by
Cindy K.
The house was beautiful and exactly as described. We were having a family get together with our 3 grown children/their spouses or significant others/and our toddler granddaughter. The set up worked out perfectly with the number of bedrooms with adjoining baths and the large family gathering area for meals and conversation. We felt it would have been nice to have one of the large outdoor porches to be screened in. The area is very wooded and buggy. There was only one small porch that was screened in back with no ventilation or fans. The home did have a well stocked kitchen for preparing and serving family meals. Oddly, there were no potholders and only one dish towel. I called maintenance our first day regarding this, and never got a call back. We purchased some and left them for the next guests. The house was a bit dirty upon our arrival and there was also no way to sweep up any of the floors over our week stay. Definitely difficult to deal with at a beach house. The outdoor showers were not working, so there was no way to clean off sandy feet. We have been visiting Watercolor for many years and this was likely our last visit. We were disappointed with the hoards of people and ridiculous "beach segregation rules". Because we were not "homeowners" and only guests, (paying a substancial rental cost), we were forced to pack up all of our gear and move twice into our "designated renters area", behind 4 rows of Watercolor setup chairs, where you could barely see the water. To sum up, very nice house, but the area has just gotten too crowded and rule laden.
4 out of 5 stars
Wonderful Experience
Review by
George E.
We thoroughly enjoyed our stay. Very convenient location and an incredible home. We will try and stay here again. 30A Exclusive was very easy to work with and helpful throughout the process.
5 out of 5 stars
High ceilings are wonderful
We had an enjoyable visit, and appreciated the kitchen/living room space with the huge ceilings. Very nice atmosphere. Up to date equipment (except they need new frying pans) and loads of china and flatware to feed a crowd. Would recommend.
4 out of 5 stars
Spring Break 2015
Review by
angela s.
We loved our Exclusive 30a rental home. The porch was so comfortable with seating for 12 for dinner outside. The support team was also fantastic.
5 out of 5 stars
Lovely home!!
A beautiful home that is very well suited for large groups!! The private porches were wonderful!!
5 out of 5 stars
nice house - in need of good cleaning and technology update
Nice house in good location - but amenities were lacking. View was beautiful and kitchen was well stocked. When we arrived at check in (on time) we had to wait an additional hour while the house was being cleaned - and that was not done completely (dirty towels and bath mats remained and a shower and kitchen sink were skipped all together). There was thick dust and old food under couches and chairs and many of the bath towels had holes. The house wifi did not work and TV remote only worked when TV was manually turned on and side cabinet opened.
3 out of 5 stars
Another great stay
We checked in late on Saturday evening and hit the beach on Sunday. We had a great time in Watercolor and Seaside. The location is quiet and plenty close enough to the beach. The reverse floor plan makes for a great time. We love it.
5 out of 5 stars
Home Away from Home!!!
We like to treat our 3 adult children and their families to a "family retreat" each year; and most of the time they request a beach trip! This year there were 8 adults and 6 children (and one more child on the way!!!). We chose Water Color specifically due to the family friendly environment; and its beautiful white sandy beach locale. The house met our needs perfectly this year; and we particularly loved the big open kitchen and family gathering room surrounded by a wrap around porch (which provided ample sitting for dining outside as well.) Linens were sparse….could have used more towels….the four occupants in the bunk room didn't have towels…..and only one dish towel for the kitchen!!! The refrigerator might need some maintenance for it had difficulty keeping the correct temperature. The WiFi connection was weak on the upper main floor. BUT…... Overall……..a VERY comfortable house with easy access to shopping, restaurants, beach and pools!!! Everyone rode their bikes all week to all the activities. And each night we enjoyed the serenade performed by all the frogs in the pond…..priceless!!!! We throughly enjoyed our HOME AWAY FROM HOME in Water Color this year!!!!
5 out of 5 stars
Pond way
Review by
Allison P.
We loved the house. We were so disappointed with the rental company. I would not know where to begin to explain the disappointment in Exclusive 30A. We spent two weeks at water color in two different homes. The homes were managed by two different companies, and it made all the difference in the world. We will be going back for the month of October making sure to avoid renting a property that is managed by exclusive 30A. I will give a longer review at a later date with more detail of our experience.
3 out of 5 stars
Great house and overall great vacation. Needs new cleaning crew.
Review by
Jennifer L.
We had a great vacation, staying in the Lake Front Serenity home for 2 weeks. It is a very nice house with a great floor plan for families. The house and amenities are great, but the cleaning needs attention. The house looks new and is ideally decorated for a vacation home. When we arrived the house, at first glance, the house appeared clean until you started looking around. It was extremely dusty, had some loose dirt on the master bedroom sheets and the top bunks looked like they had not had a linen change. They were messily made and there was an ace bandage/wrap on top of the bed spread. The king size pillow cases were on standard size pillows and the standard size pillow cases were on the king sized pillows. This attention to detail was the theme throughout the house, cleanliness wise. There were still Doritos in the carpet on the third floor loft when we arrived. We opted for the extra cleaning service after one week. Do not make this mistake. They charged us 350.00 and the cleaning crew showed up 5 hours after we had been told and only stayed 2 hours. They did not even empty the kitchen trash. It was a complete waste of money and we were not refunded after we brought this to the attention of Exclusive 30A. Overall, we LOVED the home and if the cleanliness issue was resolved it would be one of the best vacation homes in Watercolor.
4 out of 5 stars
Beautiful home, but unresponsive management
Review by
Heather E.
We love the neighborhood and have stayed in 4 different houses over thePast 4 years on our family vacation to wonderful watercolor! This house is beautiful and in a great location within watercolor. So close to two different pools! The decor is light and airy, the furniture was in good condition and we really enjoyed the layout, especially the porches! The home was filthy when we checked in (sand in sheets, hair and dirt on counters and floors). We attempted to reach two different members of the staff/management and no one ever returned our calls. We spent the first half day cleaning counters, mopping floors and changing sheets, which is why I would not recommend this home to a friend. We had a great stay other than the issue with cleaning/unresponsive management. Can't imagine why it was so dirty when we saw the cleaning people there before we went in.?? Perplexing.
3 out of 5 stars
great trip
Review by
Dave and Amanda R.
this vacation was wonderful
5 out of 5 stars
Awesome
Loved our stay!! The house was perfect for our family.
5 out of 5 stars
25 Pond Cypress
Overall great stay. We would have enjoyed maps, local magazines, and Watercolor list of weekly activities to be in the house upon arrival. Towel supply was skimpy in each bathroom. We would have appreciated more towels. Nice house and you all were very friendly to work with. Many thanks.
5 out of 5 stars
You won't want to leave!
Review by
Carolyn H.
We loved our first trip to Watercolor! This home is a wonderful place for two families to enjoy time away from home. The large kitchen and living area along with spacious furnished patios provided a great place for meals with other friends visiting Watercolor. The kitchen was equipped to to help us prepare and serve large meals. The outdoor gas grill was terrific. The large front porch has great seating and plenty of room for 8 bicycles. The location across from the pond was quiet and beautiful. The house is within walking distance to the grocery store. The store has everything you could ever need. The loft provided a great away for the kids when they weren't out on their bikes or at the beach. We loved riding our bikes everywhere! We rode to Seaside, to the Watercolor Beach Club and to friends houses. The activities available are fantastic. You can chose from tennis, fishing, boating, swimming, playing on the playgrounds or just walking on the trails. We can't wait to get back next Spring Break!
5 out of 5 stars
Book Your Stay!
Select your arrival and departure dates below to reserve this unit.
Availability
Available
Unavailable
Check-In Only
Check-Out Only
Seasonal Rates
| Date Range | Daily | Weekly | Monthly |
| --- | --- | --- | --- |
| 10/22/2018 - 11/16/2018 | $433.30 | $2,755.88 | N/A |
| 11/17/2018 - 11/25/2018 | $658.51 | $4,296.48 | N/A |
| 11/26/2018 - 12/21/2018 | $433.30 | $3,196.04 | N/A |
| 12/22/2018 - 01/01/2019 | $658.51 | $4,296.48 | N/A |
| 03/22/2019 - 03/28/2019 | $753.93 | $5,220.43 | N/A |
| 03/29/2019 - 04/04/2019 | $797.98 | $5,528.75 | N/A |
| 04/05/2019 - 04/14/2019 | $753.93 | $5,220.43 | N/A |
| 04/15/2019 - 04/22/2019 | $709.59 | $4,604.81 | N/A |
| 04/23/2019 - 05/09/2019 | $527.85 | $3,372.53 | N/A |
| 05/10/2019 - 05/24/2019 | $856.73 | $5,528.75 | N/A |
| 06/08/2019 - 06/14/2019 | N/A | $3,988.16 | N/A |
| 06/15/2019 - 06/21/2019 | N/A | $5,837.08 | N/A |
| 06/22/2019 - 06/28/2019 | N/A | $5,837.08 | N/A |
| 06/29/2019 - 07/05/2019 | N/A | $7,069.35 | N/A |
| 08/10/2019 - 10/27/2019 | $668.65 | $4,296.48 | $18,244.23 |
| 10/28/2019 - 11/22/2019 | $433.30 | $2,755.88 | N/A |
* Seasonal rates are only estimates and do not reflect taxes or additional fees.