Sea La Vie #33
NEW PRIVATE POOL and Sundeck. Next to Seaside - Best Location in Watercolor!
22 Viridian Park Drive, Santa Rosa Beach, FL
3 Bedroom(s) | 3 Bathroom(s) | Sleeps 9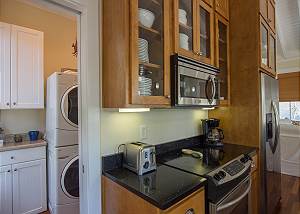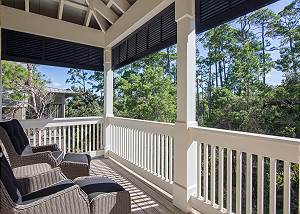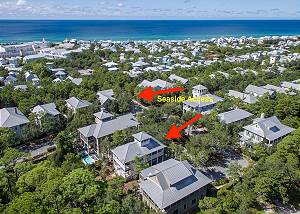 Location, location, location! Walk to Seaside in only 3 minutes via a Watercolor trail that cuts straight through the neighborhood into the back of Seaside and arrive at Southern Kitchen. Our Park District home is directly across the street from one of Watercolor's only cut-throughs to the famous neighborhood of Seaside! **Available for Sunday to Sunday rentals only during summer season. Nightly (with seasonal nightly minimums) and Weekly rates available all other times. Reservation requests are subject to confirmation. ** This newly redecorated home in Watercolor is perfectly located within walking distance to all of Watercolor and Seaside's favorite attractions. In the heart of the buzzing community, this exclusive cottage house perfectly embodies the unique 30A experience—a mix of relaxed chic, genuine quality blended with cutting-edge appointments and amenities. Complementary use of four bikes is available with your reservation. * Our professionally designed and appointed home offers both gorgeous and comfortable arrangements for the discerning guest. A designer kitchen with everything you need for a home-cooked meal, also featuring a breakfast bar for 4. Indoor dining for 6 and ample outdoor dining for an eco-chic experience on one of the homes many wrap-around balconies! 2 separate family rooms means space for everyone in plush and comfy arrangements. Sink into a plus, Westin Heavenly King sized bed in the chic master retreat with private bath and a decadent feel. Two separate guest bedrooms also feature luxury bedding and comfortable accommodations plus adjacent full baths. A separate Tupelo with Daybed and Twin Trundle provide the perfect extra sleeping accommodations for kids, teens, or friends. There is even a twin daybed on the second floor landing for any little ones to slumber. 4 Bedrooms, Sleeps 9 1st Floor King Master Suite - flat screen TV, en suite bath, private porch access, walk in closte 1st Floor Guest with King Bed - ceiling fan, adjacent to full bath, reach in closet 2nd Floor Guest with Queen Bed - ceiling fan, adjacent to full bath, reach in closet 3rd Floor Tupelo Guest Room with Twin daybed + trundle - flat screen TV, dresser storage Twin daybed - 2nd floor landing, adjacent to full bath, under bed storage Access to all Watercolor pools, Beach Club, and beach access is included with your reservation. *Some restrictions apply ** The Watercolor Beach Club is currently under renovation, and is scheduled to reopen by Memorial Day 2019. The renovations will include two additional pools, dining with indoor and outdoor seating options, a bar, and more. During the renovation process, access to the Watercolor beach entrance, rental chairs, towel service, and alternative food services at Fish Out of Water REMAIN AVAILABLE. The Boat House Pool, Dragonfly Pool, and Sandhill Pool remain open and will be heated during cooler months. Camp Watercolor is also under renovation, and is scheduled to reopen in time for Spring Break 2019. The new Camp Club will include 3 pools, a lazy river, plus food services. This is a fantastic alternative to the Beach Club year round!
Amenities

combination tub/shower:
king:
outdoor shower:
queen:
shower:
toilet:
tub:
twin/ single:
Dining:
DVD Player:
Satellite / Cable:
Television:
Air Conditioning:
Clothes Dryer:
Fireplace:
Hair Dryer:
Heating:
Internet:
Iron & Board:
Linens Provided:
Living Room:
Parking:
Washing Machine:
Coffee Maker:
Dishes & Utensils:
Dishwasher:
Kitchen:
Microwave:
Oven:
Refrigerator:
Stove:
Toaster:
Resort:
Balcony:
Bicycles:
Deck / Patio:
Outdoor Grill:
Tennis:
Communal Pool:
Heated Pool:
children welcome:
non smoking only:
pets not allowed:
Full Kitchen:
Refrigerator:
Coffee Maker:
Ice Maker:
Microwave:
Toaster:
Cookware:
Blender:
Air Conditioning:
Ceiling Fans:
Linens:
Washer & Dryer:
Ironing Board:
High Speed Internet:
Fireplace:
Bicycles Available:
Nearby ATM:
Nearby Post Office:
Nearby Internet Cafe:
Nearby FedEx:
Nearby Bank:
WiFi Internet:
Nearby Medical Services:
Nearby Grocery:
Outlet Shopping:
Movie Theatres:
Golf Course:
Nearby Art Galleries:
Nearby Boutique Shopping:
Nearby Concert Venue (Seaside):
Deck:
Patio:
Balcony:
BBQ Grill:
Outdoor Shower:
Shared Pool:
Tennis:
Beach:
Outdoor Dining:
Fireplace:
Bikes Available:
Near Beach:
Close to Town:
Park District:
Cable TV:
CD Player:
DVD Player:
WiFi Internet:
Guest Reviews of
new private pool and sundeck. next to seaside - best location in watercolor!
Santa Rosa Beach , FL
22 Viridian Stay
Location was perfect!
5 out of 5 stars
Family Vacation for 4th of July, 2018
Review by
Mark R.
Great Location, 3 blocks from the Seaside Village.The property has 2 bedrooms on the 1st floor, 1 bedroom on the 2nd Floor Living Area and 1 bedroom loft on the 3rd Floor.
4 out of 5 stars
An Absolute Dream! Perfect Location!
Review by
Katie F.
Everything about this rental and our experience with the rental agency was exceptional! The property is breathtaking and the back deck...we didn't want to ever leave. The location is one block back from the main activities in Seaside. We cannot wait to rent this property again!
5 out of 5 stars
22 Virdian
We have an amazing stay. Love this house, love the location, LOVE the pool.Terri was excellent- responded quickly to any emails sent. Great customer service.Only a few things that I would change if I were the owner-- Mirror in master bathroom was unhinged. - Add a smaller, better vacuum. I bought a broom and left it.- Add more hangers to closets.- Move the picture that is in master bedroom closet as well as the speaker- (not sure what it was, but takes up precious closet space.)-The addition of the pool was key.-We will be back- LOVED this house.
5 out of 5 stars
good locattion poor management
we arrived on the 12th. The gas had been cut off from the house since Mar 3. Mgmt was not aware. No internet, TV or gas for the first 4 days of our 5 night stay. The floors were very dirty. as if it had not been swept in a long time. Mgmt should have made sure house was properly ready and everything in working order before arrival of guests. they clearly did not.
3 out of 5 stars
Beautiful home in the perfect location
Review by
Bridget R.
This home was perfect for our two families of four. It was beautifully decorated and very comfortable. All of the porches are perfection. The location is amazing!!! To the right side of the home you are literally steps away from Seaside right in the back of the square and to the left you have access to the trails and lake that Watercolor has to offer! Best of both worlds!! We would absolutely rent this home again! Only small tiny thing I would recommend is basic cooking spices (not even salt and pepper) and coffee filters , however, the kitchen was well stocked with cooking pans and untencils that we needed. We can't wait to go back!
5 out of 5 stars
Great location
Review by
Lisa and Craig H.
This is a beautiful home. the location is outstanding! Great for kids and older folks as well. So easy to cut right into Seaside where you can shop, eat or just have a drink . We would definitely stay at this house again! The only complaint I have is the dryer takes forever and the shower in master desperately needs a new shower head. Otherwise everything was fantastic!!
4 out of 5 stars
WONDERFUL LONG WEEKEND
Review by
Ashley A.
This house was perfect for our long weekend get away! The house was well appointed and had everything we needed plus more! Lots of room for everyone to spread out. We loved all the porches and easy access to Seaside and Watercolor bike trails! We will book this house again!!!
5 out of 5 stars
Great house in perfect location!
Great location! We had everything needed. We had a few maintenance items, which were professionally and promptly addressed. Our only problem was understanding the 4 remote controls for the tv, and dvd player wasn't connected. Small issues, given the great location, property and management company.
5 out of 5 stars
Ralph Lauren Cottage- a relaxing beautiful retreat!
The Ralph Lauren Cottage was perfect for our family! It was exceptionally clean and beds were super comfortable. It was conveniently located and the bikes provided were great for riding to beach or pools. Furnishings were very attractive and I loved the bed/swing on the porch off of the master bedroom. My only complaint was the icemaker in the refrigerator did not work, but the maintenance staff brought bagged ice to put in the freezer and a cooler. The kitchen was well stocked except lacking a 8 1/2 x 11 pyrex dish so making a breakfast casserole was difficult. The DVD was not wired correctly, but my husband is a guru at electronics and he figured out what was wrong and corrected the hookups for TV and the DVD. Overall, it was a super place to stay and we would go back in a heartbeat!
5 out of 5 stars
Review
Review by
Katrina D.
Great experience. The management company was very attentive and responsive to our needs. Trash service was inconsistent, however. Would suggest that owner provide a quality broom or hand held "dust buster" to clean up sand.
5 out of 5 stars
Great house!
House was great and loved the location...easy access to beach, cut through to seaside and just a bike ride away to grocery store. Only recommendation is more counter space in master bath.
5 out of 5 stars
Great getaway!
Review by
Kathy S.
We enjoyed our stay at #33 just a few weeks ago! It. We always enjoy riding bikes throughout Watercolor and Seaside. There is an easy cut through to Seaside right by the house! Had a wonderful week with our close friends from Texas!
5 out of 5 stars
Seaside Access Home
Review by
Kathlynn P.
Great location and well appointed home. It is not a true 4 bedroom as suggested as the upstairs twin bed (and trundle) is a tiny space with no door to keep down noise from the living room. Otherwise, we were very happy with the stay. The management company should stock more complementary essentials (toilet paper, paper towels) and kitchen items (e.g., more than 1 dish towel).
4 out of 5 stars
Stay at Viridian Park Drive
We really like Seaside and Water Color. We have been there many times. This was our first time to try Water Color. The house was in a great location - close to a lake but a five minute walk from Seaside proper. We were very unimpressed with the exterior condition of the house we rented and how Exclusive 30A Rentals responded to us -- or did not respond to us until over a week after our stay. We strongly felt that as the rental agency, they had not visited the property in some time. The bikes were useable (broken, rusty chains)when the house was advertised as having bikes. The grill was rusty and not useable. All of the decks and deck furniture needed to be cleaned to be useable. There was significant construction next door that we were not advised of as renters. We called the Rental Agency multiple times and sent an email. We got no response. They responded to us one week later after the vacation was over and offered us a $200 credit on another rental -- the same credit given to anyone who answers their regular survey. The house has potential but these aspects need to be fixed. We had also advised that the kitchen was very thin on cooking pots.
4 out of 5 stars
Above our expectations.
Review by
Frank E.
Great location, everything was as advertised. Bathrooms could have been cleaner. Over all great stay and house was great. We will return.
5 out of 5 stars
Easy access to two locations
Loved the location. But the kitchen is upstairs so beware if you can't do stairs constantly. Bikes were not in good shape. We go to ride bikes. House was not ready. We had driven in with groceries. My kids were ready to get out and be there. But overall the location won over. Food is great in that area. No instructions in the house how to work anything.
4 out of 5 stars
V ery positive
Review by
Kirk & Ladon C.
We loved it, the only problem was the cost to have it cleaned after one week seemed high. We kept it fairly clean while we were there. Other than that it was very positive. Would stay in the same place again.
5 out of 5 stars
Terrible owner
Review by
Suzanne W.
Worst owner experience ever. Nearly ruined vacation. Would never rent from her again.
3 out of 5 stars
Book Your Stay!
Select your arrival and departure dates below to reserve this unit.
Availability
Available
Unavailable
Check-In Only
Check-Out Only
Seasonal Rates
| Date Range | Daily | Weekly | Monthly |
| --- | --- | --- | --- |
| 03/15/2019 - 03/21/2019 | $608.23 | $3,942.47 | N/A |
| 03/22/2019 - 03/28/2019 | $797.33 | $5,174.74 | N/A |
| 03/29/2019 - 04/04/2019 | $843.58 | $5,483.07 | N/A |
| 04/05/2019 - 04/14/2019 | $849.70 | $5,483.07 | N/A |
| 04/15/2019 - 04/22/2019 | $708.90 | $4,559.12 | N/A |
| 04/23/2019 - 05/09/2019 | $520.82 | $3,326.85 | N/A |
| 05/10/2019 - 05/24/2019 | $756.18 | $4,867.44 | N/A |
| 05/25/2019 - 05/31/2019 | N/A | $5,791.39 | N/A |
| 06/01/2019 - 06/07/2019 | N/A | $5,174.74 | N/A |
| 06/08/2019 - 06/14/2019 | N/A | $4,867.44 | N/A |
| 06/15/2019 - 06/21/2019 | N/A | $5,791.39 | N/A |
| 06/22/2019 - 06/28/2019 | N/A | $5,791.39 | N/A |
| 06/29/2019 - 07/05/2019 | N/A | $7,023.66 | N/A |
| 07/06/2019 - 07/26/2019 | N/A | $6,407.01 | N/A |
| 07/27/2019 - 08/09/2019 | N/A | $5,174.74 | N/A |
| 08/10/2019 - 10/27/2019 | $661.62 | $4,250.79 | $18,057.10 |
| 10/28/2019 - 11/22/2019 | $426.27 | $2,710.20 | N/A |
| 11/23/2019 - 12/01/2019 | $651.83 | $4,250.79 | N/A |
| 12/02/2019 - 12/20/2019 | $426.27 | $2,710.20 | N/A |
| 12/21/2019 - 01/01/2020 | $651.83 | $4,250.79 | N/A |
| 01/02/2020 - 02/21/2020 | $426.27 | $2,710.20 | N/A |
* Seasonal rates are only estimates and do not reflect taxes or additional fees.