Bring Your Boat! Direct Waterfront.
Beautiful Waterfront Property with Boat Lift. Minutes to The Gulf. Great Unit
6541 Tower Drive, Hudson, FL
2 Bedroom(s) | 2 Bathroom(s) | Sleeps 6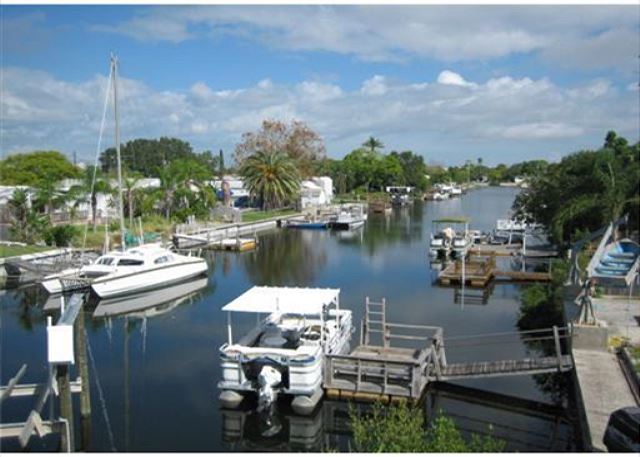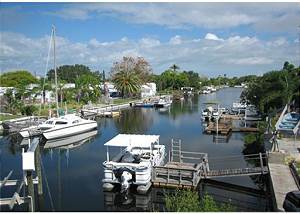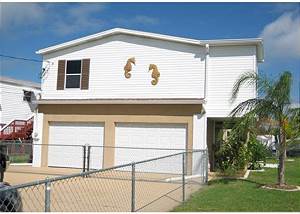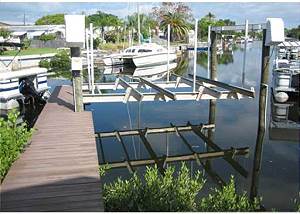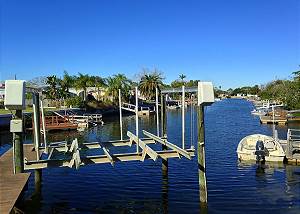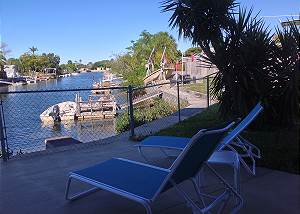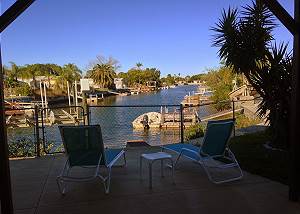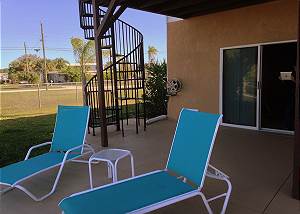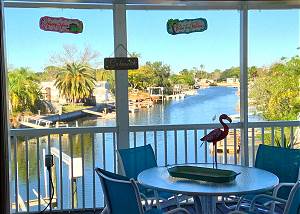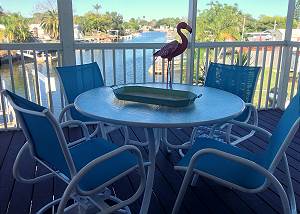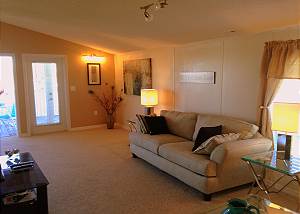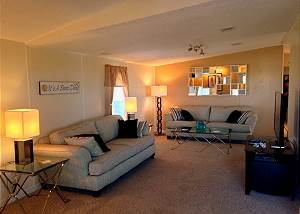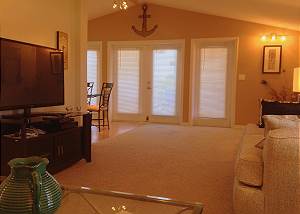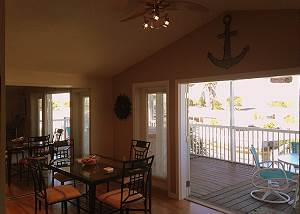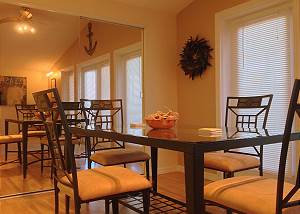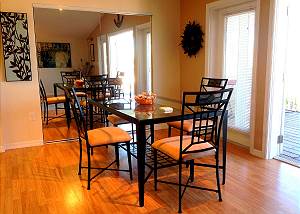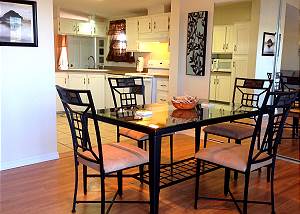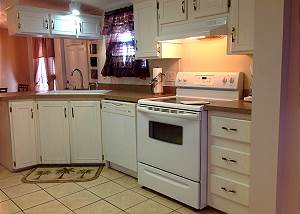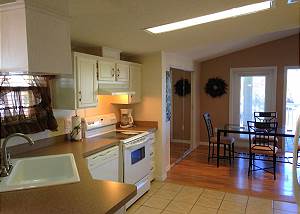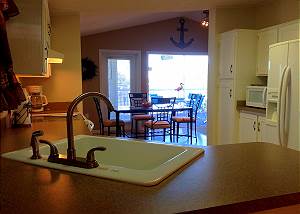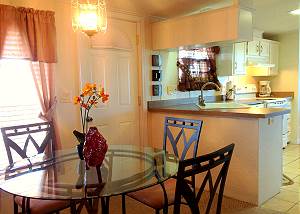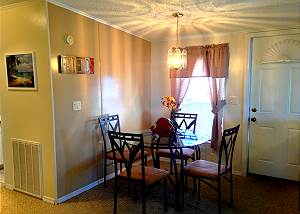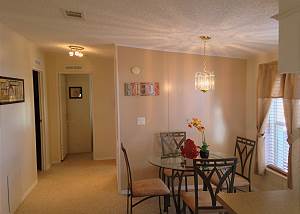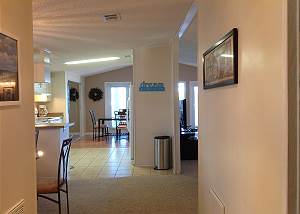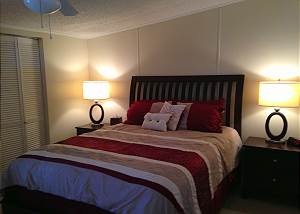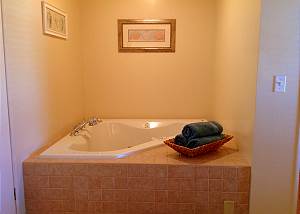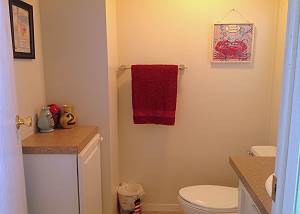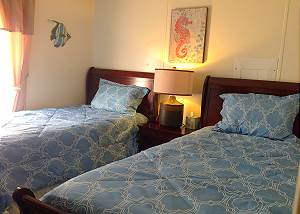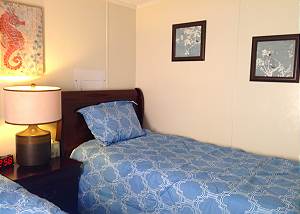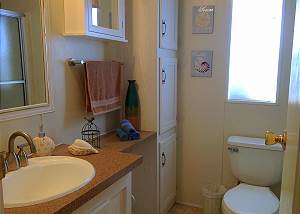 Beautiful Hudson Florida on the Gulf of Mexico is where this spacious 2 Bedroom 2 Bath waterfront/canal home is located and it's perfect for anyone wanting to experience one or many of sunny Florida's main attractions: Inshore flats fishing, off shore fishing, scuba diving, white sand beaches, the turquoise Gulf waters, wild life of all kinds including dolphins, manatees, fish, ibis, pelicans, cranes, geckos as well as the area's famed graceful sea tortoises (don't be surprised if you see a few of the aforementioned creatures right on the dock or in the canal out back!) Of course, if you have kids with you they'll want to visit nearby Busch Gardens, Lego Land, The Florida Aquarium and let's not forget Adventure Island! If you're a fishing fan, upon parking your boat on the remote controlled boat lift out back after a day of casting for Tarpon, take in the glorious Hudson West Coast sunset from the privacy of your second level, large screened in balcony overlooking the tranquil canal while the kids play down below in the enormous fenced in yard. Or.. perhaps.. relive your fishing adventures and exercise your bragging rights over a bottle of cold beer at one of the fun Hudson beach bars which is just a hop skip and a jump away. When you're not out and about enjoying the Florida great outdoors, there's plenty of peaceful "down time" available to you back at the house via a hot, soothing bath in the large Jacuzzi tub, great meal you can cook in the modern kitchen, movies you could watch on the 57" flat screen HD TV as well as high speed wireless internet. Just up the street is a scuba diving school and a short drive away are PLENTY of stores for those of you who feel a little "shopping therapy" is in order. Whichever way you look at it, this home is perfect for the famed "Florida Vacation Experience" as it has Gulf access, it's in a great neighborhood with down to earth but water-lovin' people.. and only 45 minutes from Tampa International Airport. If you are arriving hauling a third wheel… no problem… we've got a huge driveway… just come on down ya'll.. we'd love to have ya! OVERVIEW: Two Story Canal Home 2 Bedrooms 2 Bathrooms Great Room Open Kitchen/Dining area Large Screened in Balcony overlooking the canal Boat Dock and Lift Wide Driveway Huge Fenced in Yard
Amenities

Full Kitchen:
Coffee Maker:
Ice Maker:
Microwave:
Toaster:
Cookware:
Central Air:
Ceiling Fans:
Linens:
Washer & Dryer:
Ironing Board:
Jacuzzi Tub:
High Speed Internet:
Washer:
Washing Machine:
Dryer:
Screened In Waterfront Balcony:
Nearby Gulf View Mall:
Area FitnessCenter:
Nearby Medical Services:
Nearby Grocery:
Outlet Shopping:
Movie Theatres:
Golf Course:
Nearby Super Walmart:
Restaurants:
Horse Racing:
Deck:
Patio:
Balcony:
Beach:
Dock:
Sailing:
Jet Skiing:
Snorkeling/ Diving:
Windsurfing:
Biking:
Golf:
Private Parking Area:
Near Beach:
Close to Town:
Canal:
Canal to Gulf of Mexico:
Cable TV:
Wireless Internet:
Guest Reviews of
beautiful waterfront property with boat lift. minutes to the gulf. great unit
Hudson , FL
Very nice canal home.
HUGE garage! House Not handicapped accessible. Have a long set of stairs to gain access to main floor. (Probably flood area code).
4 out of 5 stars
Great home away from home
Review by
Kristine W.
What started as a 30 day stay turned into 3 and a half months as we looked for our permanent home. This place was a great place to stay. It was clean the management was always available and happy to answer any questions. Our dog loved the fenced yard. There was easy access to everything. We would highly recommend renting this property. The only negative is that the hot tub on the screened porch was unusable. We loved our stay,our move to Florida was so much easier because of this rental. Thank you!!
5 out of 5 stars
Great House!
Review by
Deborah B.
The house was just as described. It was very peaceful, with a lot of outdoor space. It had an amazing fenced in yard that went around the entire property, making it a canine paradise! My dog didn't want to leave :-)It was very well maintained, as well. The management company was very helpful and accommodating. I will definitely be back to stay there again.
5 out of 5 stars
Vacation in August 2015
The house was very well maintained and clean, the view was great!!!! The only thing that was a little disappointing was that it is described as a two bath home, but in reality is a one and half bath. There is a Jacuzzi inside the master room, outside the bathroom.
4 out of 5 stars
Hudson Rental on the Canal
Nice rental with perfect set up for dogs. Convenient to restaurants, stores, and highways. East of rental the neighborhood was sketchy. West of the rental the neighborhood was decent.
4 out of 5 stars
Great place at a great price
Review by
Brent S.
the house is very nice, has everything from dishes to towels, to laundry soap. the neighbors are great, the one cooked up some fish that i caught and the other let us take his boat out. i tried looking for anything bad and couldn't find anything. i only found one thing that was kind of a pain and that was no garage door opener for your car, other then that the place was perfect!
5 out of 5 stars
Relaxing, interesting, comfortable home from home
Review by
Douglas W.
The photos do not lie. The view from the expansive upper mosquito-proof deck was of a picturesque sea canal and the homes adjoining it. the property is in good order and ideal for up to four people although all habitable space is up a flight of steep outside stairs. Every amenity was provided and only grocery shopping needed before we could start enjoying everything about it. If you have a boat, you should, indeed, bring it and moor up right outside!Hudson is a bit of old fashioned Florida, not much on the tourist map and all the better for that we felt. There are, though, plenty of local sea food and other restaurants nearby. Beach and marina are typical Gulf Coast boating and fishing. Tampa is under an hour away, Clearwater under 40 mins. New Port Richie is the next town. Local shopping provides all daily needs although the nearby Gulf View Mall is on its on last legs with all Dept Stores either closed or closing. The neighbours were welcoming and the whole neighbourhood was safe and quiet. Easy parking on front or in massive garage. Only criticism was of an advertised barbeque not actually being provided - a disappointment. We totally enjoyed our stay and had exemplary service from Pytha.
5 out of 5 stars
Hudson, Florida
Review by
Jim D.
The rental is located just off highway 19, a very congested road, and is quite a distance from attractions and the beaches.
3 out of 5 stars
Vacation in Hudson, FL
Review by
Bill M.
We had a very nice stay. The home was clean, comfortable, nicely decorated and well furnished.
5 out of 5 stars
Enjoyable Time in Hudson
Really enjoyed sitting on the back deck with a cup of coffee and the view of the canal. The home was as described and felt safe walking our dog in the neighborhood. It was a nice touch to have paper towels, toilet paper etc already available so we didn't immediately have to go buy those items on our arrival. Would stay here again.
4 out of 5 stars
Gulf Coast property rental
Review by
Wayne Z.
I could spend lots of time and words talking about the condition of this property, but one will do: CLEAN. The renters should be proud of their housekeepers. The appointments were excellent. Everything inside looked about new. The location near Hudson couldn't have been better for our purposes. There were a couple of downsides that may or may not have any impact on other renters. The tankless hot water heater took a little getting used to before we found how to get hot water efficiently. If you want to fish in the canal, the position of the boat hoist makes it difficult for more than one person at a time to cast efficiently. Other than those little things, This was a super property.
5 out of 5 stars
Book Your Stay!
Select your arrival and departure dates below to reserve this unit.
Availability
Available
Unavailable
Check-In Only
Check-Out Only
Seasonal Rates
| Date Range | Daily | Weekly | Monthly |
| --- | --- | --- | --- |
| 01/05/2019 - 04/19/2019 | $128.60 | $900.00 | $2,880.00 |
| 04/20/2019 - 04/26/2019 | $128.60 | $900.00 | N/A |
| 04/27/2019 - 05/31/2019 | $128.60 | $900.00 | $2,880.00 |
| 06/01/2019 - 08/14/2019 | $90.00 | $630.00 | $2,140.00 |
| 08/15/2019 - 11/22/2019 | $75.00 | $525.00 | $1,785.00 |
| 11/23/2019 - 11/29/2019 | $128.60 | $900.00 | N/A |
| 11/30/2019 - 12/20/2019 | $75.00 | $525.00 | N/A |
| 12/21/2019 - 01/03/2020 | $128.60 | $900.00 | N/A |
| 01/04/2020 - 04/10/2020 | $128.60 | $900.00 | $3,857.00 |
* Seasonal rates are only estimates and do not reflect taxes or additional fees.