Buttercup Cottage #61
All Suite Designer Home 3 Blocks to Beach Club/Gulf - Bikes Available
134 Buttercup Street, Santa Rosa Beach, FL
3 Bedroom(s) | 3.5 Bathroom(s) | Sleeps 10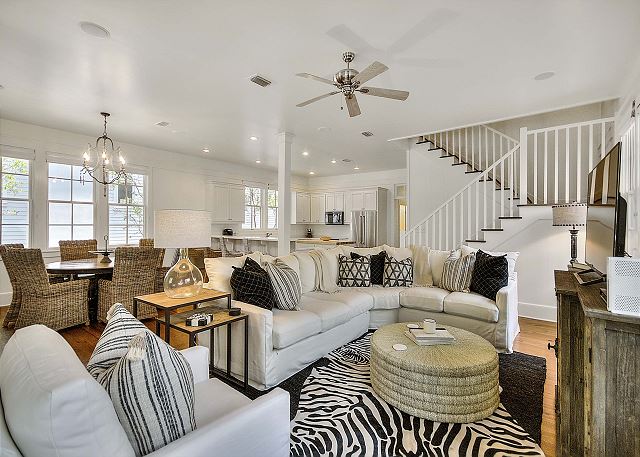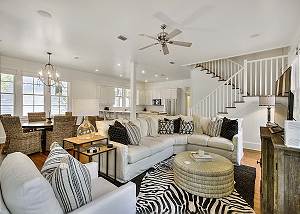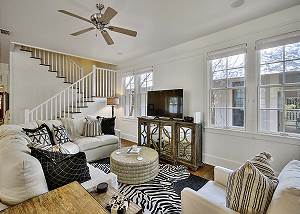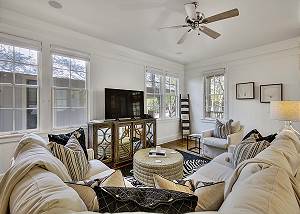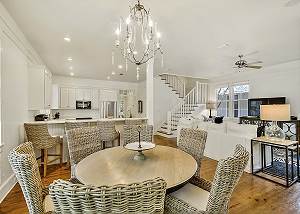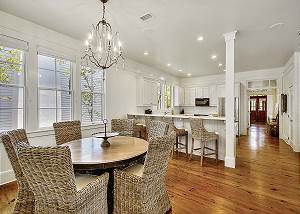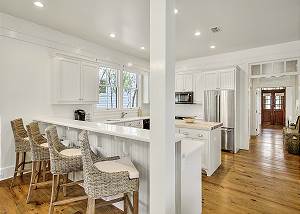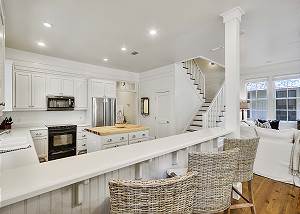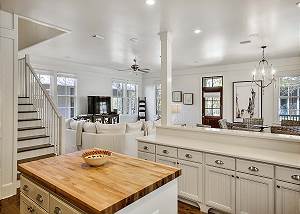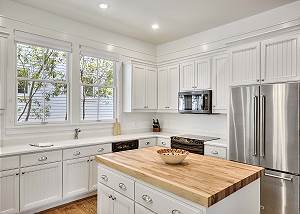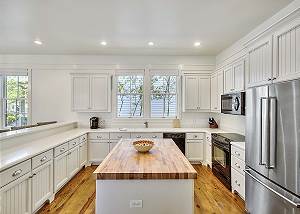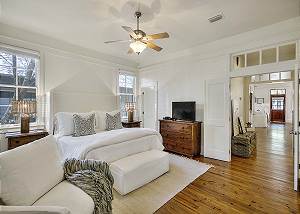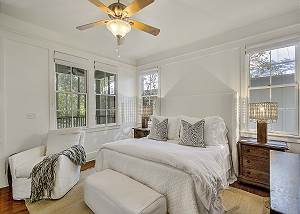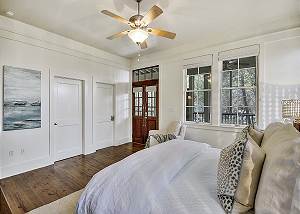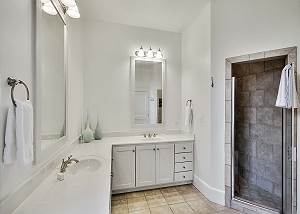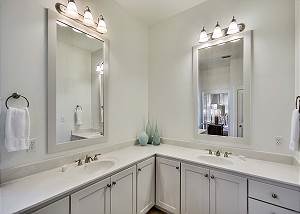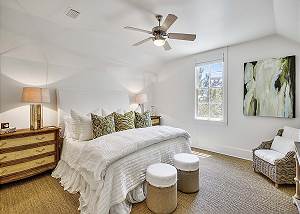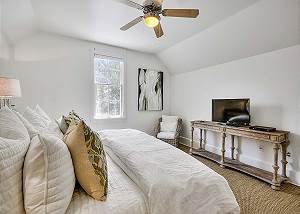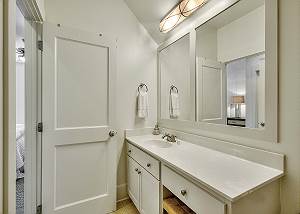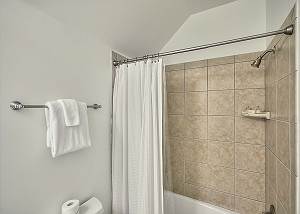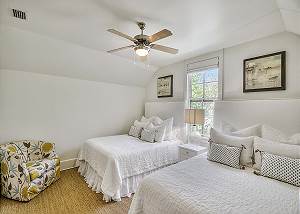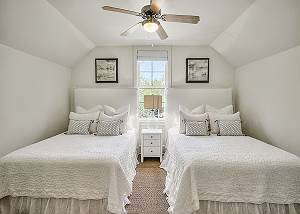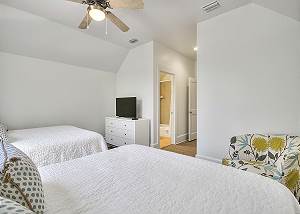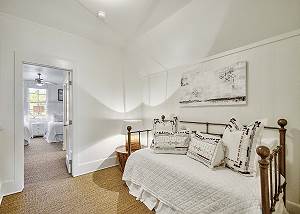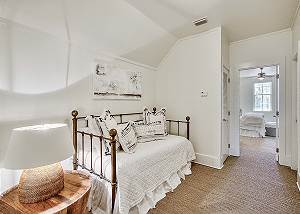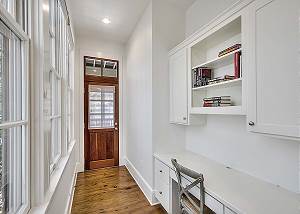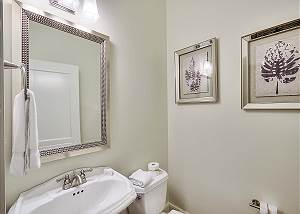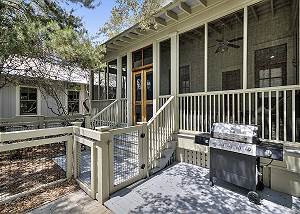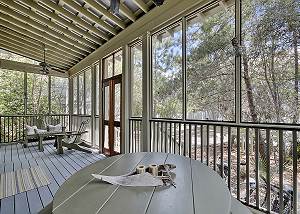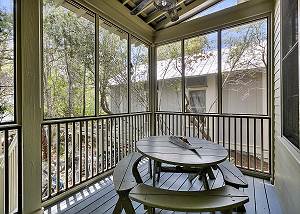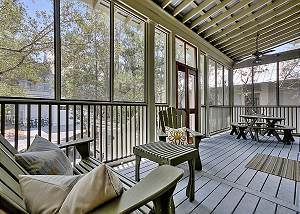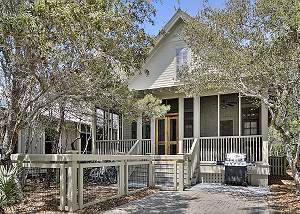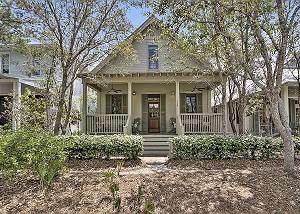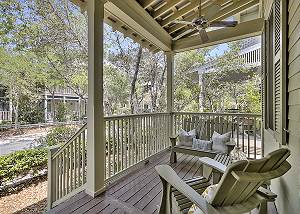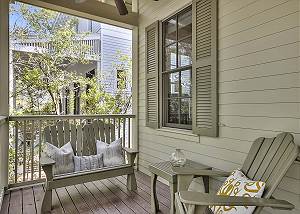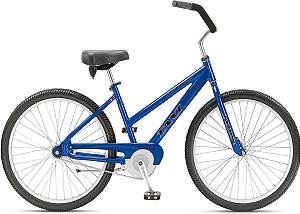 Newly redecorated by our professional design team, this beautiful three suite home on Buttercup is well appointed for your family of 10. The most popular spots in Watercolor are just outside your door - green space for family football games across the street, the Boat House and Western Lake 1 block away, shopping and dining 2 blocks away, and the Watercolor Beach Club is only a 4 minute walk. Get there even faster with a bike - complimentary use of three bikes is available (some restrictions). **Available for Saturday to Saturday rentals only during summer season. Nightly (with seasonal nightly minimums) and Weekly rates available all other times. Reservation requests are subject to confirmation. ** With an open concept main living space, your family will love the easy atmosphere and luxe decor. This home has been fully redecorated for 2018 by our professional design team to be ultra chic and luxurious. Dining for 6 in the main dining area with adjacent breakfast bar seating for 4. The ample counter space in the kitchen is great for preparing meals, and the cabinets are stocked with supplies for preparing anything from late night snacks to holiday feasts. 3 Bedrooms, Sleeps 10 1st Floor King Master Suite 2nd Floor King Guest Suite 2nd Floor Guest Suite - 2 Queen Beds Bonus: Twin Daybed plus Twin Trundle on 2nd Floor landing Part of a classic Watercolor experience includes lazy evenings on the porch, and this home features a front porch as well as screened in back porch. Both are furnished with comfortable seating, and the back porch includes a dining table for 4. Amenities Parking for 2 cars Full Kitchen Keurig Coffee Maker Washer and Dryer Office area with built in desk Screened in Back Porch Outdoor Dining Cable Outdoor grill Complimentary use of 3 bikes (some restrictions) Access to Watercolor Beach Club and community pools included Access to the Watercolor Beach Club and community pools is included with your reservation. Concierge services such as bike rentals, beach chair rentals, grocery delivery, baby equipment rentals, and more is also available. Call us today to begin planning your next vacation experience! ** The Watercolor Beach Club is currently under renovation, and is scheduled to reopen by Memorial Day 2019. The renovations will include two additional pools, dining with indoor and outdoor seating options, a bar, and more. During the renovation process, access to the Watercolor beach entrance, rental chairs, towel service, and alternative food services at Fish Out of Water REMAIN AVAILABLE. The Boat House Pool, Dragonfly Pool, and Sandhill Pool remain open and will be heated during cooler months. Camp Watercolor is also under renovation, and is scheduled to reopen in time for Spring Break 2019. The new Camp Club will include 3 pools, a lazy river, plus food services. This is a fantastic alternative to the Beach Club year round!
Amenities

combination tub/shower:
king:
shower:
sleep sofa /futon:
toilet:
tub:
twin/ single:
Dining:
Television:
Air Conditioning:
Clothes Dryer:
Hair Dryer:
Heating:
Internet:
Iron & Board:
Linens Provided:
Living Room:
Parking:
Towels Provided:
Washing Machine:
Coffee Maker:
Dishes & Utensils:
Dishwasher:
Kitchen:
Microwave:
Oven:
Pantry Items:
Refrigerator:
Stove:
Toaster:
Near The Ocean:
Resort:
Bicycles:
Deck / Patio:
Outdoor Grill:
Communal Pool:
children welcome:
non smoking only:
Full Kitchen:
Refrigerator:
Coffee Maker:
Ice Maker:
Microwave:
Toaster:
Cookware:
Blender:
Air Conditioning:
Ceiling Fans:
Linens:
Washer & Dryer:
Ironing Board:
No Phone:
Bicycles Available:
Nearby ATM:
Nearby Post Office:
Nearby Internet Cafe:
Nearby FedEx:
Nearby Bank:
Area FitnessCenter:
Nearby Medical Services:
Nearby Grocery:
Outlet Shopping:
Movie Theatres:
Golf Course:
Nearby Art Galleries:
Nearby Boutique Shopping:
Nearby Concert Venue (Seaside):
Patio:
BBQ Grill:
Shared Pool:
Bikes Available:
Near Beach:
Close to Town:
Park District:
Guest Reviews of
all suite designer home 3 blocks to beach club/gulf - bikes available
Santa Rosa Beach , FL
Great Watercolor Home and Rental Company
The house was located in a great part of Watercolor, well-cared for, and nicely appointed. Exclusive 30a was great to work with—everyone from scheduling to guest services, maintenance, and the company owner. We highly recommend renting from Exclusive 30a.
5 out of 5 stars
Falling Wine Fest
Outstanding visit and beautiful accommodations.
5 out of 5 stars
mixon vacation
Review by
Barbara M.
Family Vacation
Great Location.
5 out of 5 stars
Perfect House
Review by
Haley C.
The house is beautiful, perfectly located, and had everything we needed for a family of 8. We loved being near the lake and boat house pool, and the walk/bike ride to the beach was short and easy. Highly recommend this property.
5 out of 5 stars
Perfect for our annual 30A Moms Getaway
Review by
Emmy S.
We rented Buttercup for our annual trip to 30A and it did not disappoint. We have been traveling to 30A for about 10 years and this was our first time to stay in Watercolor. We will definitely be back! Amenities are fantastic, poolside food & drinks was our favorite thing about the beach club. The home was decorated beautifully, and so inviting and comfy! And very close to everything, although the shuttle was wonderful when taking all your gear to the beach!
5 out of 5 stars
Vacation at 134 Buttercup
It was very nice and Exclusive 30A was very responsive before and during with any questions. Watercolor is a very family environment, and we were no exception so I would suggest adding outlet covers to the property, especially in the kitchen island as it is eye height for little kids. The redoing of the unit is very nice and tasteful. The property was spacious and fairly clean. The location is great for going to the beach as well as proximity to seaside and many of the pools. We would return to Watercolor and use Exclusive 30A again.
5 out of 5 stars
We loved Buttercup Cottage #61
Review by
Jan W.
The house was in perfect condition and the location is unbeatable. The kitchen was stocked with everything we needed and bedrooms and bathrooms were very nice. The beds were super-comfortable.
5 out of 5 stars
Lovely cottage
Review by
Michele F.
Everything was very well appointed in this vacation rental:) the layout is a tad odd...entering from the back door into the master. We simply used the backdoor by the work station in the hallway:) really appreciate Oates the update to the decor and bikes from what we were expecting from pictures! Fantastic location and I was pleasantly surprised at how much my teenagers used the Pool and amenities. The extra cost seemed to be worth it. Thank you for a memorable vacation!
5 out of 5 stars
Columbus Day week stay in Watercolor
Review by
Roger L.
Not great....and really only one reason---the construction noise going on next door that was started up at 6am every morning! I have learned to make it a point about staying in the newer developments because of typical construction noise---thus my stay in this corner of Watercolor---however, the home next door to us was being renovated---the noise from the installation of exterior decking and board sidewalks, the emptying of the construction dumpsters, the coming and going of workers in their vehicles at all time of the day----was horrible. Everything else was fine...I was somewhat concerned as I had my 3 teenage daughters with me, thus from a security standpoint, I had concerns as well.
3 out of 5 stars
Labor Day Tradition
Review by
Robbin R.
Great experience top to bottom from reservations to check out and everything in between! Look forward to future business with Exclusive 30A!
5 out of 5 stars
Buttercup Cottage was Wonderful
Review by
April Y.
Buttercup Cottage was Wonderful. Will definitely book again next year.
5 out of 5 stars
Book Your Stay!
Select your arrival and departure dates below to reserve this unit.
Availability
Available
Unavailable
Check-In Only
Check-Out Only
Seasonal Rates
| Date Range | Daily | Weekly | Monthly |
| --- | --- | --- | --- |
| 03/15/2019 - 03/21/2019 | $552.31 | $3,573.90 | N/A |
| 03/22/2019 - 03/28/2019 | $721.89 | $4,350.88 | N/A |
| 03/29/2019 - 04/04/2019 | $764.03 | $4,961.36 | N/A |
| 04/05/2019 - 04/14/2019 | $770.01 | $4,961.36 | N/A |
| 04/15/2019 - 04/22/2019 | $642.57 | $4,128.88 | N/A |
| 04/23/2019 - 05/09/2019 | $472.99 | $3,018.91 | N/A |
| 05/10/2019 - 05/24/2019 | $685.73 | $4,406.38 | N/A |
| 05/25/2019 - 05/31/2019 | N/A | $5,238.85 | N/A |
| 06/01/2019 - 06/07/2019 | N/A | $4,683.87 | N/A |
| 06/08/2019 - 06/14/2019 | N/A | $4,406.38 | N/A |
| 06/15/2019 - 06/21/2019 | N/A | $5,238.85 | N/A |
| 06/22/2019 - 06/28/2019 | N/A | $5,238.85 | N/A |
| 06/29/2019 - 07/05/2019 | N/A | $6,348.82 | N/A |
| 07/06/2019 - 07/26/2019 | N/A | $5,793.84 | N/A |
| 07/27/2019 - 08/09/2019 | N/A | $4,683.87 | N/A |
| 08/10/2019 - 10/27/2019 | $600.43 | $3,851.39 | $16,343.20 |
| 10/28/2019 - 11/22/2019 | $388.71 | $2,463.93 | N/A |
| 11/23/2019 - 12/01/2019 | $590.86 | $3,851.39 | N/A |
| 12/02/2019 - 12/20/2019 | $388.71 | $2,463.93 | N/A |
| 12/21/2019 - 01/01/2020 | $590.86 | $3,851.39 | N/A |
| 01/02/2020 - 02/21/2020 | $388.71 | $2,463.93 | N/A |
* Seasonal rates are only estimates and do not reflect taxes or additional fees.