Seas the Day (Seagrove) #30
4 BD/ Gulf Views/ 70 steps to Pool/ 150 steps to Beach/ Newly Redecorated
64 Chelsea Loop Rd, Santa Rosa Beach, FL
4 Bedroom(s) | 2.5 Bathroom(s) | Sleeps 8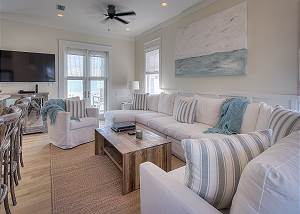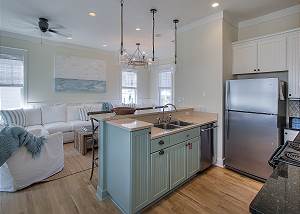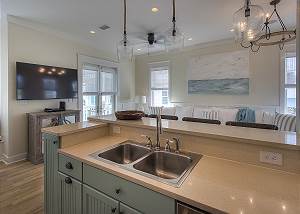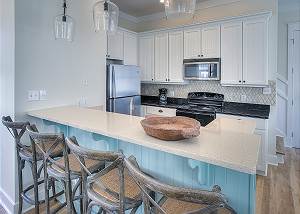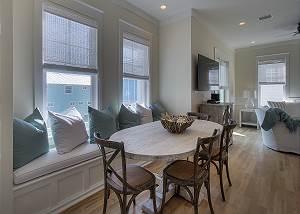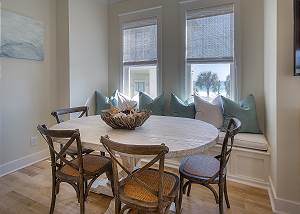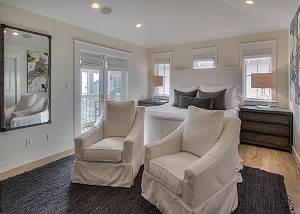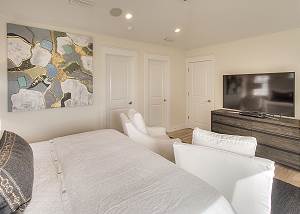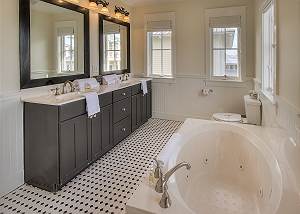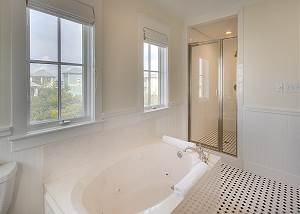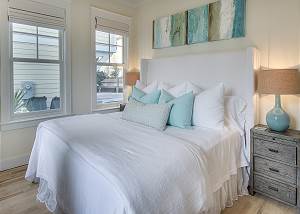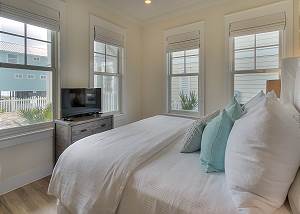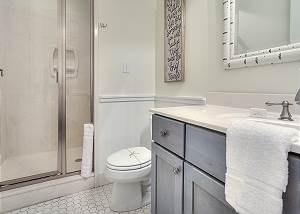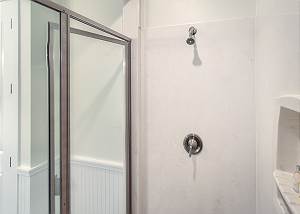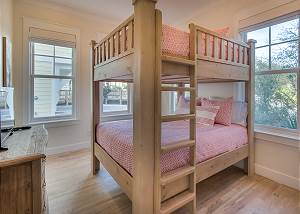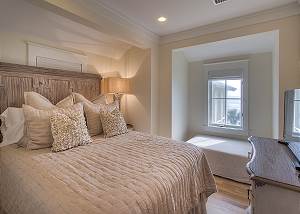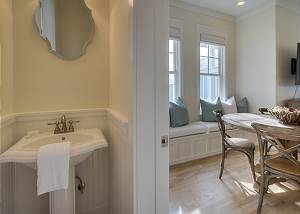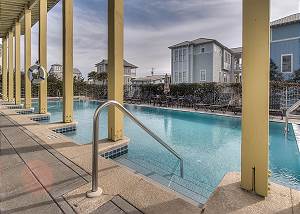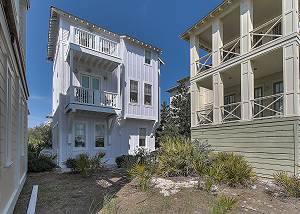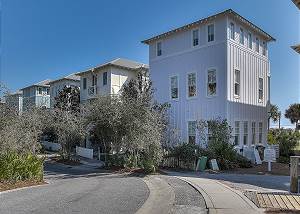 **Available for Saturday to Saturday rentals only during summer season. Nightly (with seasonal nightly minimums) and Weekly rates available all other times. Reservation requests are subject to confirmation. ** If you like to "Seas the Day", this new home is your dream comes true. Fully redecorated by our team of professional designers, this gorgeous four bedroom home is the chic beach retreat for which you have been searching. Only 70 footsteps to one of two neighborhood community pools and 150 footsteps to the sand! Great location in a quiet neighborhood and a lovely bike ride to Seaside. This gorgeous home has been redesigned from top to bottom, with all new interiors, new hardwood floors, and fully repainted. Be one of the first to stay in what feel like an entirely new home! Great Gulf views from the 2nd and 3rd floor balconies, this home is only one back from the beach. The moment you walk in, you are greeted with with cool wood tones and creamy shades of blue and white. Two guest rooms on the first floor feature a king guest room and a bunk room with a queen over queen bunk. A full bath with walk in shower is adjacent to both rooms. A laundry closet with full size washer and dryer completed the first level. The main living area is featured on the second floor, including a living room, dining area, balcony with Gulf view, and full size kitchen. A plush sectional sofa faces the HDTV while offering Gulf views just beyond. An inviting circular, reclaimed wood dining table is available for evening meals with adjoining breakfast bar seating for additional guests. A powder room is available as is a private balcony with Gulf views and adirondack seating. Can't you feel the Gulf breezes from here? A king master suite and queen guest room are located on the third floor, both with gorgeous Gulf views. The en suite master bath includes a dual vanity sink, jetted garden tub, and large walk in shower. A comfortable seating area and private balcony with adirondack seating finish the grand master suite. Inquire today to book your dream, luxury vacation. Concierge services, including bike rentals, grocery delivery, YOLO board rentals, beach bonfire setup, and baby equipment rentals is available through LiveWell 30A.
Amenities

king:
outdoor shower:
queen:
shower:
toilet:
tub:
Dining:
Satellite / Cable:
Television:
Air Conditioning:
Clothes Dryer:
Hair Dryer:
Heating:
Internet:
Iron & Board:
Linens Provided:
Living Room:
Parking:
Towels Provided:
Washing Machine:
Coffee Maker:
Dishes & Utensils:
Dishwasher:
Kitchen:
Microwave:
Oven:
Refrigerator:
Stove:
Toaster:
Beach View:
Ocean View:
Water View:
Balcony:
Deck / Patio:
Lawn / Garden:
Outdoor Grill:
Communal Pool:
children welcome:
non smoking only:
wheelchair inaccessible:
Full Kitchen:
Refrigerator:
Coffee Maker:
Ice Maker:
Microwave:
Toaster:
Cookware:
Blender:
Air Conditioning:
Linens:
Washer & Dryer:
Ironing Board:
Jacuzzi Tub:
High Speed Internet:
No Phone:
Nearby ATM:
Nearby Post Office:
Nearby Internet Cafe:
Nearby FedEx:
Nearby Bank:
WiFi Internet:
Area FitnessCenter:
Nearby Medical Services:
Nearby Grocery:
Outlet Shopping:
Golf Course:
Nearby Art Galleries:
Nearby Boutique Shopping:
Nearby Concert Venue (Seaside):
Deck:
Balcony:
Gas Grill:
Outdoor Shower:
Shared Pool:
Beach:
Near Beach:
Close to Town:
Southside 30A:
Cable TV:
WiFi Internet:
Guest Reviews of
4 bd/ gulf views/ 70 steps to pool/ 150 steps to beach/ newly redecorated
Santa Rosa Beach , FL
Review
We had such a great time! The house and location were perfect. Check in and out was seamless with the app. Would stay here again in a heartbeat.
5 out of 5 stars
Very nice home close to the beach.
Review by
Amanda E.
Seas the Day was a very nice vacation rental. It's closer to the beach and community pools than I had imagined. The quiet neighborhood felt safe and I enjoyed walking daily. The home would be perfect for two separate families to share the home with two bedrooms on the first floor and two bedrooms on the second floor. The only issues we had were the garbage was never picked up from the previous guests and we were never instructed to put the garbage out or even when the garbage would run. The parking is also very tight. It was difficult to get my full size SUV in and out of the driveway. While the house was clean (floors mopped and bathrooms and kitchens clean) it was was very dusty. I would suggest wiping off the baseboards, the trim work and light fixtures. It was so thick that it was visible. The door of the closet housing the AC was caked with dust. All simple fixes. Probably wouldn't choose this particular rental again because of the problematic parking but would return to this rental company.
4 out of 5 stars
FABULOUS WEEK AT THE BEACH!
Review by
Ana N.
We just stayed for one full week at 'Seas the Day' vacation rental home through Exclusive 30a. We had a FABULOUS week! The house is beautiful! We arrived 30 min before 4p and the cleaners were done, so we were able to get in a bit early. Really liked having the door code that got us right in without having to keep track of a key. The air conditioning kept the house cool and worked really well. The beds were very comfortable. The bathrooms and shower (water pressure) were great! There were plenty of bathroom towels. Enjoyed having a washer and dryer to wash all our pool towels throughout the week. The two pools that we had access to were wonderful and very close. We also felt like the ocean was closer than described. The fact that there were TV's in each room with really good cable was a plus for the kids and adults well! When we arrived, we planned on staying in and cooking the entire time. The local supermarket was super close. Knowing that, we brought a lot of our own cooking utensils/pans/pots. The grill desperately needs to be replaced. That was the only bummer of the trip. The furniture was white in the main living space. Although beautiful and very clean, it was a worry with our children and food/snacks. We had one question for the manager and they assisted us ASAP. They were great! We would definitely recommend!
4 out of 5 stars
Vacation with family and teens
Would stay here again
4 out of 5 stars
Perfect location, wonderful stay!
We loved our stay at Seas the Day! The house was beautiful overall and in a super convenient location. I only gave four stars for two (small) reasons: (1) We arrived at 4pm for check in and the cleaning crew was still there. After a 6 hour drive, we were ready to unpack and get our baby out of the car, so that was somewhat inconvenient (2) as lovely as the white furniture looks in the pictures, the couch and chair are stained pretty heavily. In the grand scheme of things, not a huge deal, but it did make me feel like it was less clean than I would have liked.
4 out of 5 stars
Better Than Advertised
Review by
Jeff K.
First, let me say that this place is closer to the beach and pools ( 2 pools) than they advertise. The location is superb! If you happen to not be at the beach or pool, and you are stuck inside, you are in for a treat. The interior is comfortable, but not overdone. Nice, yet kid friendly. The property management staff were great -- quick responses to questions pre-rental, and even quick to respond to questions while there. They were more of a concierge than rental manager! Parking can be difficult, but is the same everywhere.
5 out of 5 stars
Wonderful Beach Home!!!
Review by
Courtney A.
This home is beautiful!!!! Wonderful location super close to the beach and the neighborhood pool. House is very clean and management was quick to respond and even came and fixed an issue on a Sunday! Will be returning to this house again!!!
5 out of 5 stars
Book Your Stay!
Select your arrival and departure dates below to reserve this unit.
Availability
Available
Unavailable
Check-In Only
Check-Out Only
Seasonal Rates
| Date Range | Daily | Weekly | Monthly |
| --- | --- | --- | --- |
| 04/05/2019 - 04/14/2019 | $625.58 | $4,000.07 | N/A |
| 04/15/2019 - 04/22/2019 | $519.72 | $3,307.37 | N/A |
| 04/23/2019 - 05/09/2019 | $377.89 | $2,383.42 | N/A |
| 05/10/2019 - 05/24/2019 | $554.66 | $3,538.61 | N/A |
| 05/25/2019 - 05/31/2019 | N/A | $4,231.31 | N/A |
| 06/01/2019 - 06/07/2019 | N/A | $3,768.83 | N/A |
| 06/08/2019 - 06/14/2019 | N/A | $3,538.61 | N/A |
| 06/15/2019 - 06/21/2019 | N/A | $4,231.31 | N/A |
| 06/22/2019 - 06/28/2019 | N/A | $4,231.31 | N/A |
| 06/29/2019 - 07/05/2019 | N/A | $5,155.26 | N/A |
| 07/06/2019 - 07/26/2019 | N/A | $4,692.77 | N/A |
| 07/27/2019 - 08/09/2019 | N/A | $3,768.83 | N/A |
| 08/10/2019 - 10/27/2019 | $483.75 | $3,076.12 | $13,004.19 |
| 10/28/2019 - 11/22/2019 | $306.98 | $1,920.93 | N/A |
| 11/23/2019 - 12/01/2019 | $474.01 | $3,076.12 | N/A |
| 12/02/2019 - 12/20/2019 | $306.98 | $1,920.93 | N/A |
| 12/21/2019 - 01/01/2020 | $474.01 | $3,076.12 | N/A |
| 01/02/2020 - 02/21/2020 | $306.98 | $1,920.93 | N/A |
* Seasonal rates are only estimates and do not reflect taxes or additional fees.